Sweet Onion Casserole: A delightful dish that brings out the natural sweetness of onions, complemented by the rich flavors of butter and Parmesan cheese. This casserole is a perfect side dish for steak or chicken and is known for its creamy texture and golden-brown crust. With a preparation time of just 15 minutes and a baking time of 25 minutes, it's a quick and delicious addition to any meal.
Print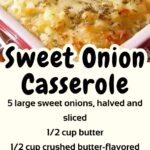 Sweet Onion Casserole
---
5 large sweet onions, halved and sliced
1/2 cup butter
1/2 cup crushed butter-flavored crackers (about 12 crackers)
1/2 cup grated Parmesan cheese
---
Instructions
Preheat oven to 350°.
In a large skillet, sauté onions in butter until tender.
Place half of the onions in a greased 2-qt. baking dish; sprinkle with half of the cracker crumbs and cheese. Repeat layers.
Bake, uncovered, until golden brown and bubbly, 25-30 minutes.