A Timeless Comfort Dish
There's something undeniably comforting about a dish of creamy, bubbling mac and cheese emerging from the oven. Its golden-brown crust promises a savory delight, a nostalgic trip down memory lane where every forkful evokes feelings of home, warmth, and simple pleasures. For many, mac and cheese is not just a dish; it's a cherished memory, a symbol of family gatherings, and a testament to the magic of simple ingredients coming together.
Elevating a Classic
While the classic mac and cheese is a staple in many households, this Creamy Baked Mac and Cheese recipe takes it to a whole new level. Infused with the sharpness of cheddar and the richness of Parmesan, every bite offers a harmonious blend of flavors and textures. The addition of a crispy breadcrumb topping adds an unexpected crunch, contrasting beautifully with the velvety cheese sauce beneath.
Perfect for Any Occasion
Whether you're hosting a casual family dinner, a potluck with friends, or seeking solace in a bowl of heartwarming goodness, this dish is sure to impress. It's versatile enough to stand alone or complement a variety of main courses. So, gather your ingredients, preheat that oven, and prepare to indulge in one of the finest comfort foods ever created.
Print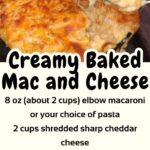 Creamy Baked Mac and Cheese
---
8 oz (about 2 cups) elbow macaroni or your choice of pasta
2 cups shredded sharp cheddar cheese
1/2 cup grated Parmesan cheese
3 cups milk (preferably whole milk)
1/4 cup unsalted butter
2 1/2 tablespoons all-purpose flour
1/2 teaspoon salt
1/2 teaspoon black pepper
1/2 teaspoon paprika
1/2 cup bread crumbs (for topping)
2 tablespoons melted butter (for topping)
---
Instructions
Preheat Oven: Preheat your oven to 350°F (175°C).
Cook Pasta: In a large pot of boiling salted water, cook the pasta according to the package instructions. Drain well.
Make the Cheese Sauce: In a separate pot, melt the butter over medium heat. Stir in the flour until the mixture becomes paste-like and light golden brown, about 5 minutes. Gradually whisk in the milk so that no lumps form, then bring to a boil. Reduce the heat to medium and simmer until the sauce thickens.
Add Cheese: Add 1 3/4 cups of the cheddar cheese and the Parmesan cheese to the sauce and stir until the cheese is melted and the sauce is smooth.
Combine Pasta and Cheese Sauce: Add the drained pasta to the pot with the cheese sauce and stir to coat.
Transfer to Baking Dish: Transfer the mac and cheese to a lightly greased baking dish. Sprinkle with the remaining 1/4 cup of cheddar cheese, paprika, salt, and pepper.
Bread Crumb Topping: In a small bowl, mix the bread crumbs with the melted butter. Sprinkle over the top of the mac and cheese.
Bake: Place the baking dish in the oven and bake for about 20 minutes, or until the top is golden brown and the cheese is bubbly.
Serve: Let the mac and cheese sit for 5 minutes before serving. Enjoy!