Philly Cheesesteak Egg Rolls: Dive into a delightful culinary fusion where East meets West! These egg rolls encapsulate the rich flavors of the iconic Philly Cheesesteak, delivering a crispy exterior filled with succulent beef, melted cheese, and sautéed veggies. Perfect for appetizers, parties, or a unique dinner treat, these egg rolls are sure to be a crowd-pleaser. Experience the classic taste of Philadelphia with an Asian twist!
Print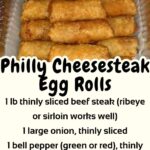 Philly Cheesesteak Egg Rolls
---
1 lb thinly sliced beef steak (ribeye or sirloin works well)
1 large onion, thinly sliced
1 bell pepper (green or red), thinly sliced
1 cup shredded provolone cheese (or cheese whiz for a more authentic touch)
Salt and pepper, to taste
2 tbsp olive oil or butter
12-15 egg roll wrappers
1 egg, beaten (for sealing the egg rolls)
Oil for frying (canola, vegetable, or peanut oil)
---
Instructions
Preparation of Filling:
In a large skillet, heat the olive oil or butter over medium heat.
Add the sliced onions and bell peppers. Sauté until they are soft and translucent.
Add the thinly sliced beef steak to the skillet. Cook until the beef is browned and cooked through. Season with salt and pepper.
Once cooked, remove from heat and let it cool slightly. Mix in the shredded provolone cheese (or cheese whiz).
Wrapping the Egg Rolls:
Lay an egg roll wrapper on a clean surface with one corner pointing towards you.
Place about 2-3 tablespoons of the beef mixture in the center of the wrapper.
Fold the bottom corner over the filling, then fold in the two side corners.
Roll the wrapper away from you, sealing the final corner with a bit of the beaten egg.
Frying:
Heat the oil in a deep frying pan or pot to 350°F (175°C). Ensure there's enough oil to submerge the egg rolls.
Carefully place a few egg rolls into the hot oil, making sure not to overcrowd the pan.
Fry until golden brown, which usually takes about 3-5 minutes.
Remove the egg rolls with a slotted spoon and place them on a plate lined with paper towels to drain excess oil.
Serving:
Serve the Philly Cheesesteak Egg Rolls hot with your choice of dipping sauce, like marinara, cheese sauce, or even a horseradish sauce.