The Reuben Crescent Bake is a delightful fusion of the iconic Reuben sandwich and the flaky goodness of crescent rolls. This dish transforms the classic flavors of corned beef, sauerkraut, Swiss cheese, and Thousand Island dressing into a mouthwatering bake that's perfect for gatherings or a unique dinner treat. With its golden-brown crust and savory filling, it's a surefire hit that offers a fresh take on a beloved classic.
Whether you're hosting a potluck, looking for a quick meal, or simply craving something different, this bake is a delicious solution that's bound to impress.
Print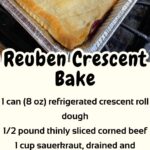 Reuben Crescent Bake
---
1 can (8 oz) refrigerated crescent roll dough
1/2 pound thinly sliced corned beef
1 cup sauerkraut, drained and squeezed dry
1 cup shredded Swiss cheese
1/4 cup Thousand Island dressing
1 egg white, lightly beaten (for brushing)
Caraway seeds (optional)
---
Instructions
Preheat the Oven: Preheat your oven to 375°F (190°C).
Prepare the Baking Sheet: Line a baking sheet with parchment paper or lightly grease it.
Roll Out the Dough: Unroll the crescent roll dough onto the prepared baking sheet. Press the perforations together to seal and form a rectangle.
Add the Fillings: Spread the Thousand Island dressing over the dough, leaving a small border around the edges. Layer the corned beef slices on top of the dressing. Evenly distribute the sauerkraut over the corned beef. Sprinkle the shredded Swiss cheese on top.
Fold and Seal: Starting from one long side, roll up the dough tightly, like a jelly roll. Pinch the ends to seal. Position the roll seam-side down on the baking sheet.
Brush and Sprinkle: Lightly brush the top of the roll with the beaten egg white. If desired, sprinkle with caraway seeds.
Bake: Place the baking sheet in the preheated oven and bake for 20-25 minutes, or until the top is golden brown and the cheese has melted.
Cool and Serve: Remove from the oven and let it cool for a few minutes. Slice into pieces and serve warm.
Notes
Feel free to adjust the ingredients based on your personal preferences. For instance, you can add more or less of any ingredient, or even introduce new ones like sliced pickles or onions.