Dive into a delightful fusion of classic comfort foods with this Chili Cheese Dog Bake. Combining the savory flavors of hot dogs, rich chili, and melted cheddar cheese, this dish is a guaranteed crowd-pleaser. Perfect for game nights, family gatherings, or when you're simply craving some hearty indulgence. Ready in under 30 minutes, it's a quick and delicious way to satisfy those comfort food cravings. Enjoy!
Print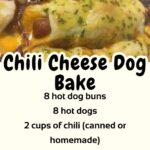 Chili Cheese Dog Bake
---
8 hot dog buns
8 hot dogs
2 cups of chili (canned or homemade)
2 cups shredded cheddar cheese
1/4 cup chopped onions (optional)
1 tablespoon butter, melted
1 teaspoon garlic powder
1 teaspoon parsley flakes (optional for garnish)
Salt and pepper to taste
---
Instructions
Preheat Oven: Preheat your oven to 375°F (190°C).
Prepare Baking Dish: Lightly grease a 9×13-inch baking dish.
Arrange Buns: Open the hot dog buns and lay them flat inside the baking dish, cut side up.
Add Hot Dogs: Place one hot dog inside each bun.
Top with Chili: Spoon chili evenly over each hot dog, ensuring that each one is well-covered.
Sprinkle Cheese: Evenly sprinkle the shredded cheddar cheese over the chili-covered hot dogs.
Add Onions: If you're using onions, sprinkle them over the cheese.
Prepare Garlic Butter: In a small bowl, mix the melted butter with garlic powder. Brush this mixture over the exposed parts of the hot dog buns.
Bake: Place the baking dish in the preheated oven and bake for about 20-25 minutes, or until the cheese is melted and bubbly and the buns are golden brown.
Garnish and Serve: Remove from the oven and sprinkle with parsley flakes if desired. Let it cool for a few minutes, then serve warm.
Serving Suggestions:
Pair with a side of coleslaw or potato salad.
Serve with a cold beverage like soda or iced tea.