Print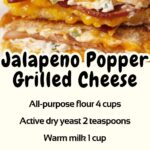 Jalapeno Popper Grilled Cheese
---
All-purpose flour 4 cups
Active dry yeast 2 teaspoons
Warm milk 1 cup
Sugar 1/2 cup
Melted butter 1/3 cup
Egg 1
Salt 1/2 teaspoon
Ground cinnamon 2 teaspoons
---
Instructions
Prep the Jalapenos: Begin by slicing the jalapenos into thin rings. If you prefer a milder flavor, make sure to remove all the seeds.
Creamy Mixture: In a mixing bowl, combine the cream cheese, half of the grated cheddar cheese, garlic powder, salt, and pepper. Mix until you achieve a smooth consistency.
Assemble the Sandwich: Lay out the bread slices. Spread a generous amount of the creamy mixture on one side of each slice. Place the jalapeno rings on top, and sprinkle the remaining cheddar cheese over them. Top with another slice of bread.
Grill to Perfection: Heat a pan over medium heat. Add a dollop of butter. Once melted, place the sandwich in the pan. Cook until the bottom is golden brown, then flip and cook the other side. The cheese should be melted and gooey, and the bread crispy and golden.
Serve and Enjoy: Once cooked to perfection, remove from the pan, slice in half, and serve immediately. Dive into the spicy, cheesy goodness!