Indulge in the delightful fusion of fresh strawberries and creamy textures with this Strawberry Cream Cheese Icebox Cake. Perfect for warm days or when you're craving a touch of summer sweetness, this no-bake treat layers luscious cream cheese filling, juicy strawberries, and crisp graham crackers. Let it chill, then slice to reveal its beautiful layers and savor the symphony of flavors. It's an easy dessert that's sure to impress!
Print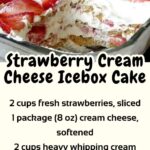 Strawberry Cream Cheese Icebox Cake
---
2 cups fresh strawberries, sliced
1 package (8 oz) cream cheese, softened
2 cups heavy whipping cream
1 cup powdered sugar
1 tsp vanilla extract
1 package (11 oz) graham crackers
Strawberry syrup (optional for drizzling)
---
Instructions
Prepare the Strawberries: Wash the strawberries, remove the stems, and slice them thinly. Set aside.
Cream Cheese Mixture: In a large mixing bowl, beat the softened cream cheese until smooth and creamy. Add in the powdered sugar and vanilla extract, and mix until well combined.
Whipped Cream: In another bowl, whip the heavy cream until stiff peaks form.
Combine: Gently fold the whipped cream into the cream cheese mixture until well blended.
Layering: Begin by placing a layer of graham crackers at the bottom of a rectangular dish. Spread a portion of the cream cheese mixture over the graham crackers, followed by a layer of sliced strawberries. Repeat the layers until all ingredients are used up, finishing with a layer of the cream cheese mixture on top.
Chill: Cover the dish with plastic wrap and refrigerate for at least 4 hours, or overnight for best results. This will allow the graham crackers to soften and the flavors to meld.
Serve: When ready to serve, drizzle with strawberry syrup (if using) and garnish with additional sliced strawberries on top.
Enjoy! Slice and serve the chilled Strawberry Cream Cheese Icebox Cake. Store any leftovers in the refrigerator.
Notes
You can also use store-bought whipped cream if you prefer.
For a richer flavor, consider adding some crushed graham crackers or cookie crumbs on top before serving.
If you like a more intense strawberry flavor, you can fold some strawberry jam or puree into the cream cheese mixture.