Heaven on Earth Cake is a delightful dessert that's known for being light and fluffy with a rich flavor profile that typically combines angel food cake, creamy pudding, sour cream or whipped cream, and often includes fruit like cherries or strawberries. It's a layered treat that is usually easy to make and doesn't require baking if you use a pre-made cake. Here is a recipe to create your own version of Heaven on Earth Cake:
Print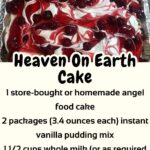 Heaven On Earth Cake
---
1 store-bought or homemade angel food cake
2 packages (3.4 ounces each) instant vanilla pudding mix
1 1/2 cups whole milk (or as required by pudding mix instructions)
1 cup sour cream
1 can (21 ounces) cherry pie filling (or any other fruit filling you prefer)
1 container (12 ounces) whipped topping, thawed (or equivalent homemade whipped cream)
1/2 cup sliced almonds, toasted (optional for garnish)
Fresh fruit for garnish (optional)
---
Instructions
Prepare the Pudding:
In a large bowl, whisk together the vanilla pudding mix and milk according to the package instructions. Typically, this means whisking for 2 minutes until the pudding starts to thicken.
Once the pudding is ready, gently fold in the sour cream until well combined. Set this mixture aside.
Cake Layer:
Cut the angel food cake into 1-inch cubes. This doesn't have to be precise, as it's going to be layered and will settle in the dessert.
Assembling the Cake:
In a trifle bowl or a large glass serving dish, layer half of the cake cubes at the bottom.
Spoon half of the pudding mixture over the cake cubes and spread it out evenly.
Add half of the cherry pie filling over the pudding layer.
Repeat the layers, starting with the remaining cake cubes, followed by the pudding mixture, and the rest of the cherry pie filling.
Add the Whipped Topping:
Spread the whipped topping over the top layer of cherry pie filling, covering the dessert completely.
Garnish:
If you're using them, sprinkle toasted sliced almonds over the whipped topping for a bit of crunch.
Optionally, you can also add fresh fruit on top for additional flavor and a decorative touch.
Chill the Cake:
Refrigerate the cake for at least 4 hours, or overnight, to allow the flavors to meld together and the cake to soften from the moisture of the pudding and fruit filling.
Serve:
When ready to serve, spoon out portions ensuring that each serving has a bit of every layer.
Enjoy your heavenly dessert!