Banana Bread Brownies: Dive into a divine fusion of the classic banana bread and rich brownies. These Banana Bread Brownies offer the best of both worlds – the comforting moistness of banana bread combined with the dense chocolatey delight of brownies. Perfect for when you can't decide between the two, this treat promises a bite that's both fruity and indulgent. Whether you're a banana lover, a brownie aficionado, or just in need of a unique dessert, this recipe is sure to satisfy.
Print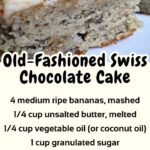 Old-Fashioned Swiss Chocolate Cake
---
4 medium ripe bananas, mashed
1/4 cup unsalted butter, melted
1/4 cup vegetable oil (or coconut oil)
1 cup granulated sugar
2 large eggs
1 tsp vanilla extract
1 cup all-purpose flour
1/2 cup unsweetened cocoa powder
1/2 tsp baking soda
1/4 tsp salt
1/2 cup chocolate chips or chunks (optional)
---
Instructions
Preheat Oven: Begin by preheating your oven to 350°F (175°C). Grease a 9×9 inch baking pan or line it with parchment paper.
Wet Ingredients: In a large mixing bowl, combine the mashed bananas, melted butter, oil, and sugar. Mix until everything is well combined. Add the eggs one at a time, mixing well after each addition. Stir in the vanilla extract.
Dry Ingredients: In another bowl, sift together the flour, cocoa powder, baking soda, and salt.
Combine: Gradually add the dry ingredients to the banana mixture, mixing just until incorporated. Do not overmix. If you're using chocolate chips or chunks, fold them into the batter.
Bake: Pour the batter into the prepared baking pan and smooth the top. Bake in the preheated oven for 25-30 minutes or until a toothpick inserted into the center comes out with a few moist crumbs. The baking time might vary based on your oven and the moisture content in your bananas, so keep an eye on them.
Cool and Serve: Remove from the oven and let the brownies cool in the pan for about 10 minutes, then transfer them to a wire rack to cool completely. Once cooled, cut into squares and serve.
Optional Add-ins:
Chopped walnuts or pecans can be added for a bit of crunch.
A swirl of peanut or almond butter can be added on top before baking for an extra layer of flavor.