Poor Man Husband Casserole is a comforting and hearty dish that's both affordable and easy to prepare. It's perfect for those nights when you want something delicious without breaking the bank or spending hours in the kitchen. Here's a simple recipe to get you started:
Poor Man Husband Casserole
Print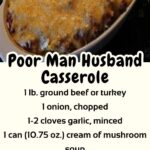 Poor Man Husband Casserole
---
1 lb. ground beef or turkey
1 onion, chopped
1–2 cloves garlic, minced
1 can (10.75 oz.) cream of mushroom soup
1 cup sour cream or Greek yogurt
1 package (16 oz.) frozen mixed vegetables (like peas, carrots, green beans, etc.)
1 bag (16 oz.) frozen tater tots
1–2 cups shredded cheddar cheese
Salt and pepper, to taste
Optional seasonings: dried basil, oregano, or thyme
---
Instructions
Preheat Oven: Preheat your oven to 375°F (190°C).
Cook the Meat: In a large skillet over medium heat, cook the ground meat, breaking it apart with a spatula, until no longer pink. Add the chopped onion and minced garlic, and continue to cook until the onion becomes translucent.
Add Soup and Sour Cream: Reduce the heat to low, and stir in the cream of mushroom soup and sour cream (or Greek yogurt). Mix until well combined.
Add Vegetables: Stir in the frozen mixed vegetables and season with salt, pepper, and any optional seasonings you like. Cook until everything is heated through.
Assemble the Casserole: Pour the beef and vegetable mixture into a 9×13-inch baking dish. Sprinkle with half of the shredded cheddar cheese. Arrange the frozen tater tots on top in a single layer. Sprinkle the remaining cheese over the tater tots.
Bake: Place the casserole in the preheated oven and bake for 25-30 minutes, or until the tater tots are golden brown and the cheese is melted and bubbly.
Serve: Remove from the oven and allow to cool for a few minutes before serving. Enjoy!