Embrace the Essence of Autumn with Classic Pumpkin Bread
As the leaves begin their vibrant transformation and the air adopts a cooler embrace, nothing captures the heart of the season quite like a freshly baked loaf of pumpkin bread. Infused with a medley of warming spices, this loaf is an embodiment of all things fall. Moist, aromatic, and brimming with the rich flavor of pumpkin, it's a treat that evokes memories of cozy sweaters, mugs of hot cider, and the gentle crunch of fallen leaves underfoot. Whether you're looking for the perfect companion to your morning coffee or a delightful afternoon snack, this pumpkin bread is sure to satisfy your autumnal cravings.
Enjoy the seamless blend of cinnamon, nutmeg, and cloves, harmonizing together to create a symphony of flavors in every bite. With each slice, you'll be transported to a world where the magic of fall comes alive, making this classic pumpkin bread not just a culinary delight but also a heartwarming experience. So, roll up your sleeves and let the baking begin!
Print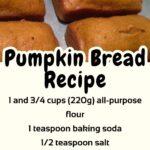 Pumpkin Bread Recipe
---
1 and 3/4 cups (220g) all-purpose flour
1 teaspoon baking soda
1/2 teaspoon salt
2 teaspoons ground cinnamon
1/4 teaspoon ground nutmeg
1/4 teaspoon ground cloves
1/4 teaspoon ground allspice (optional)
1/2 cup (120ml) vegetable oil or melted coconut oil
1/2 cup (100g) granulated sugar
1/2 cup (110g) packed brown sugar
2 large eggs, at room temperature
1 and 1/2 cups (340g) canned pumpkin puree (not pumpkin pie filling)
1/4 cup (60ml) milk, at room temperature
1 teaspoon pure vanilla extract
---
Instructions
Preheat Oven: Adjust the oven rack to the lower third position and preheat the oven to 350°F (177°C). Grease a 9×5-inch loaf pan or line it with parchment paper.
Dry Ingredients: In a large bowl, whisk together the flour, baking soda, salt, cinnamon, nutmeg, cloves, and allspice until well combined.
Wet Ingredients: In a separate bowl, whisk together the oil, granulated sugar, and brown sugar until combined. Add the eggs, one at a time, mixing well after each addition. Stir in the pumpkin puree, milk, and vanilla extract.
Combine: Pour the wet ingredients into the dry ingredients and fold gently with a spatula just until combined. Do not overmix.
Bake: Pour the batter into the prepared loaf pan and smooth the top. Bake in the preheated oven for 60-70 minutes, or until a toothpick inserted into the center comes out clean. Note that baking times may vary, so keep an eye on it.
Cool: After baking, allow the pumpkin bread to cool in the pan on a wire rack for about 15 minutes. After this, remove the bread from the pan and place it directly on the wire rack to cool completely.
Serve: Slice the bread using a serrated knife and serve. Enjoy!