Seafood Mac and Cheese is a luxurious twist on the classic comfort dish. Combining the creamy, cheesy goodness of macaroni and cheese with the rich flavors of shrimp, crab, and scallops, this dish offers a delightful fusion of land and sea. Perfect for special occasions or when you're in the mood for something indulgent, Seafood Mac and Cheese is sure to impress and satisfy your taste buds.
Print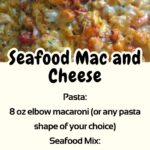 Seafood Mac and Cheese
---
Pasta:
8 oz elbow macaroni (or any pasta shape of your choice)
Seafood Mix:
8 oz shrimp, peeled and deveined
8 oz lump crab meat
8 oz scallops
1 tbsp olive oil
Salt and pepper, to taste
Cheese Sauce:
4 tbsp unsalted butter
4 tbsp all-purpose flour
2 cups milk
1 cup heavy cream
2 cups shredded sharp cheddar cheese
1 cup shredded gruyère cheese
1/2 tsp paprika
1/2 tsp garlic powder
Salt and pepper, to taste
Topping:
1/2 cup panko breadcrumbs
2 tbsp melted butter
1/4 cup grated parmesan cheese
1 tbsp chopped fresh parsley (optional)
---
Instructions
Prepare the Pasta:
Cook the pasta according to the package instructions until al dente. Drain and set aside.
Cook the Seafood:
In a large skillet, heat the olive oil over medium heat.
Season the shrimp and scallops with salt and pepper.
Add the shrimp and scallops to the skillet and cook until the shrimp turn pink and the scallops are golden brown. This should take about 2-3 minutes per side.
Gently fold in the crab meat and cook for another 2 minutes. Remove from heat and set aside.
Make the Cheese Sauce:
In a large saucepan, melt the butter over medium heat.
Whisk in the flour and cook for 1-2 minutes until it forms a roux.
Gradually whisk in the milk and heavy cream. Continue to whisk until the mixture thickens.
Reduce the heat to low and stir in the cheddar and gruyère cheeses until melted and smooth.
Season with paprika, garlic powder, salt, and pepper.
Combine:
Add the cooked pasta and seafood mix to the cheese sauce. Gently stir to combine everything.
Topping:
In a small bowl, combine the panko breadcrumbs, melted butter, and grated parmesan cheese.
Bake:
Preheat your oven to 375°F (190°C).
Transfer the mac and cheese mixture to a baking dish.
Sprinkle the breadcrumb mixture evenly over the top.
Bake in the preheated oven for 20-25 minutes or until the top is golden brown and bubbly.
Remove from the oven and let it cool for a few minutes.
Serve:
Garnish with chopped fresh parsley (if using) and serve hot.