One Pot Mexican Rice Casserole is a flavorful and hearty dish that combines the rich tastes of Mexican cuisine in a single pot. With ingredients like ground meat, rice, beans, corn, and cheese, this casserole is both filling and delicious. It's perfect for those busy weeknights when you want a satisfying meal without the hassle of multiple dishes. Garnished with fresh cilantro and a squeeze of lime, this dish is a delightful fusion of flavors and textures that will transport your taste buds straight to Mexico!
Print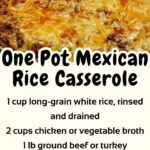 One Pot Mexican Rice Casserole
---
1 cup long-grain white rice, rinsed and drained
2 cups chicken or vegetable broth
1 lb ground beef or turkey
1 onion, finely chopped
2 cloves garlic, minced
1 can (15 oz) black beans, drained and rinsed
1 can (15 oz) diced tomatoes, undrained
1 cup corn kernels (frozen, canned, or fresh)
1 cup shredded cheddar or Mexican blend cheese
2 tsp ground cumin
1 tsp chili powder
1/2 tsp paprika
Salt and pepper to taste
2 tbsp olive oil or vegetable oil
Fresh cilantro, chopped (for garnish)
1 lime, cut into wedges (optional)
---
Instructions
Preparation: In a large pot or skillet, heat the oil over medium heat. Add the chopped onion and sauté until translucent, about 3-4 minutes.
Cook Meat: Add the ground beef or turkey to the pot. Cook until browned, breaking it apart with a spatula as it cooks. Once browned, drain any excess fat.
Add Garlic and Spices: Stir in the minced garlic, ground cumin, chili powder, paprika, salt, and pepper. Cook for another 1-2 minutes until fragrant.
Rice: Add the rinsed rice to the pot and stir to combine with the meat and spices.
Liquids: Pour in the chicken or vegetable broth and the can of undrained diced tomatoes. Mix well.
Simmer: Bring the mixture to a boil, then reduce the heat to low. Cover the pot and let it simmer for about 20 minutes, or until the rice is cooked through and has absorbed most of the liquid.
Add Beans and Corn: Stir in the black beans and corn kernels. Continue to cook for another 5 minutes until everything is heated through.
Cheese: Sprinkle the shredded cheese on top of the casserole. Cover the pot and let it sit for a few minutes until the cheese is melted.
Serve: Garnish with fresh cilantro and serve with lime wedges on the side, if desired.