Philly Cheesesteak Cheesy Bread: Embark on a gastronomic journey to the heart of Philadelphia with this sumptuous dish. Merging the savory goodness of the classic Philly cheesesteak with the rich allure of cheesy bread, this creation promises a symphony of flavors in every bite. With succulent ribeye steak, velvety provolone, and a medley of sautéed veggies, all cradled in a golden toasted French bread, it's a culinary masterpiece waiting to be savored.
Print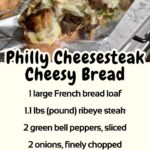 Philly Cheesesteak Cheesy Bread
---
1 large French bread loaf
1.1 lbs (pound) ribeye steak
2 green bell peppers, sliced
2 onions, finely chopped
12 slices provolone cheese
3 tablespoons butter
1 teaspoon garlic powder
Salt, to taste
Black pepper, to taste
2 tablespoons olive oil
---
Instructions
Preheat the Oven: Begin by preheating your oven to 392°F. This ensures a crispy crust for your cheesy bread.
Prepare the Bread: Slice the French bread loaf in half horizontally. Spread butter on both halves and sprinkle some garlic powder. Place them in the oven for about 5 minutes or until they're slightly toasted.
Cook the Steak: While the bread is toasting, heat olive oil in a skillet over medium heat. Thinly slice the ribeye steak and add it to the skillet. Season with salt and pepper. Cook until the steak is browned and cooked through.
Sauté the Vegetables: In the same skillet, add the sliced green bell peppers and chopped onions. Sauté until they are soft and translucent.
Assemble the Cheesy Bread: Once the bread is toasted, layer half of the provolone cheese slices on each half. Then, evenly distribute the steak and sautéed vegetables over the cheese. Top with the remaining provolone slices.
Bake: Place the assembled bread back into the oven and bake for another 10 minutes, or until the cheese is melted and bubbly.
Serve: Once out of the oven, let it cool for a couple of minutes. Slice and serve warm. Enjoy the delightful fusion of flavors!