In our modern world, the joy of cooking is often a mix of tradition and innovation. While we cherish age-old recipes handed down from our ancestors, there's also an undeniable thrill in experimenting with new flavors and techniques. Today, we dive into the art of making the perfect fried shrimp a dish that, in its simplicity, captures the essence of both the old and the new. From selecting the freshest shrimp to getting that golden-brown crisp just right, join us on this culinary journey.
Print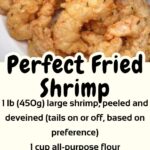 Perfect Fried Shrimp
---
1 lb (450g) large shrimp, peeled and deveined (tails on or off, based on preference)
1 cup all-purpose flour
1 teaspoon salt
1/2 teaspoon black pepper
1 teaspoon paprika or smoked paprika
1/2 teaspoon garlic powder
1 cup buttermilk (or substitute by adding 1 tbsp vinegar or lemon juice to 1 cup of milk and let it sit for 5 minutes)
1 cup Panko breadcrumbs or regular breadcrumbs
Vegetable oil, for frying
Lemon wedges and tartar sauce or cocktail sauce, for serving
---
Instructions
Preparation: Make sure the shrimp are cleaned, deveined, and patted dry with paper towels.
Flour Mixture: In a shallow bowl, combine the all-purpose flour, salt, black pepper, paprika, and garlic powder.
Buttermilk Dip: Pour buttermilk into another shallow bowl.
Breadcrumb Coating: Place Panko breadcrumbs in a third shallow bowl.
Dredging Process:
First, dip a shrimp into the flour mixture, ensuring it's fully coated.
Then, dip the flour-coated shrimp into the buttermilk, letting the excess drip off.
Finally, press the shrimp into the breadcrumbs, making sure it's thoroughly covered. Place the breaded shrimp on a plate or tray and repeat with the remaining shrimp.
Frying:
Heat about 2 inches of vegetable oil in a deep frying pan or pot over medium heat until it reaches around 350°F (175°C). If you don't have a thermometer, you can test the oil's readiness by dropping a breadcrumb into it; it should sizzle without burning immediately.
Carefully place the shrimp into the hot oil using tongs. Avoid overcrowding the pan; you might have to fry the shrimp in batches.
Fry each side for about 2-3 minutes or until golden brown and crispy.
Remove the fried shrimp with a slotted spoon and place them on a plate lined with paper towels to drain excess oil.
Serving: Serve the fried shrimp hot with lemon wedges and your choice of tartar sauce or cocktail sauce.
Notes
Always be careful when working with hot oil to prevent burns or accidents.
For an extra crunch, you can mix some grated coconut or crushed cornflakes into the breadcrumbs.
If you like a bit of heat, consider adding some cayenne pepper or chili powder to the flour mixture.