Dive into a delightful dish inspired by the flavors of Outback Steakhouse's signature Alice Springs Chicken. This mouthwatering recipe combines tender chicken breasts, crispy bacon, and sautéed mushrooms, all smothered in a luscious honey mustard sauce and melted Colby-Monterey Jack cheese blend. Perfect for a special dinner or when you're craving a touch of restaurant magic in your own kitchen!
Print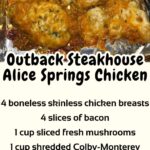 Outback Steakhouse Alice Springs Chicken
---
4 boneless skinless chicken breasts
4 slices of bacon
1 cup sliced fresh mushrooms
1 cup shredded Colby-Monterey Jack cheese blend
1/4 cup honey mustard sauce (store-bought or homemade)
2 tbsp olive oil
1/2 tsp salt
1/2 tsp black pepper
1/2 tsp paprika
1 tbsp chopped fresh parsley (for garnish, optional)
For the Honey Mustard Sauce:
1/2 cup mayonnaise
2 tbsp honey
2 tbsp Dijon mustard
1 tsp lemon juice
Pinch of salt
---
Instructions
Preparation of Honey Mustard Sauce:
In a small bowl, combine the mayonnaise, honey, Dijon mustard, lemon juice, and a pinch of salt. Whisk until smooth.
Set aside.
Chicken Preparation:
Preheat your oven to 375°F (190°C).
Season the chicken breasts with salt, pepper, and paprika.
In a large oven-proof skillet, heat olive oil over medium-high heat.
Add the chicken breasts and cook until golden brown on both sides, about 5-7 minutes per side.
Remove the chicken from the skillet and set aside.
Bacon and Mushrooms:
In the same skillet, add the bacon slices and cook until crispy. Remove and set aside.
In the bacon grease, add the sliced mushrooms and sauté until they are soft and have released their moisture, about 5 minutes.
Assembling the Chicken:
Place the chicken breasts back in the skillet.
Brush each chicken breast generously with the honey mustard sauce.
Layer each chicken breast with sautéed mushrooms.
Crumble the cooked bacon and sprinkle it over the mushrooms.
Top each chicken breast with the shredded Colby-Monterey Jack cheese blend.
Baking:
Transfer the skillet to the preheated oven and bake for 15-20 minutes, or until the chicken is fully cooked and the cheese is melted and bubbly.
If desired, broil for an additional 2-3 minutes to get a golden-brown cheese top.
Serving:
Remove from the oven and let it rest for a few minutes.
Garnish with chopped fresh parsley if desired.
Serve hot with a side of honey mustard sauce.