Indulge in the sweet symphony of Ooey Gooey Bars, a dessert that promises a delightful dance of flavors and textures with every bite. With a buttery crust that perfectly complements its rich, luscious filling, these bars are the epitome of dessert decadence.
Perfect for celebrations, casual get-togethers, or those moments when you simply crave something irresistibly sweet, Ooey Gooey Bars are sure to satisfy your sweet tooth. Their melt-in-your-mouth goodness is a testament to the magic that happens when simple ingredients come together in perfect harmony.
Print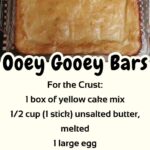 Ooey Gooey Bars
---
For the Crust:
1 box of yellow cake mix
1/2 cup (1 stick) unsalted butter, melted
1 large egg
For the Filling:
8 oz cream cheese, softened
2 large eggs
1 lb (about 4 cups) powdered sugar
1 tsp vanilla extract
1/2 cup (1 stick) unsalted butter, melted
---
Instructions
Prepare the Crust:
Preheat your oven to 350°F (175°C).
In a large mixing bowl, combine the cake mix, melted butter, and egg. Mix until well combined.
Press the mixture into the bottom of a greased 9×13-inch baking dish to form the crust.
Prepare the Filling:
In another large mixing bowl, beat the cream cheese until smooth and creamy.
Add the eggs, one at a time, beating well after each addition.
Gradually add the powdered sugar and continue beating until smooth.
Mix in the vanilla extract and melted butter.
Pour the filling over the crust in the baking dish, spreading it out evenly.
Bake:
Place the baking dish in the preheated oven and bake for 40-45 minutes, or until the edges are golden brown and the center is set but still slightly jiggly.
Remove from the oven and allow to cool completely before cutting into bars.
Serve and Enjoy:
Once cooled, cut the Ooey Gooey Bars into squares and serve. They can be enjoyed at room temperature or chilled.
Notes
You can also add chocolate chips, nuts, or other toppings to the filling for added flavor and texture.