No-Bake Chocolate Oat Bars are a delightful treat that combines the richness of chocolate with the wholesome texture of oats. Perfect for those moments when you crave something sweet but don't want to turn on the oven, these bars are both delicious and easy to make. With a chewy oat base, a creamy chocolate center, and a crumbly oat topping, they offer a satisfying mix of flavors and textures. Ideal for picnics, potlucks, or just a simple snack at home, these bars are sure to be a hit with both kids and adults!
Print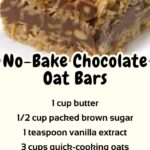 No-Bake Chocolate Oat Bars
---
For the Base:
1 cup butter
1/2 cup brown sugar, packed
3 cups quick-cooking oats
1 teaspoon vanilla extract
For the Chocolate Layer:
1/2 cup butter
2 cups semi-sweet chocolate chips
2 tablespoons peanut butter (optional)
---
Instructions
Prepare the Base:
In a medium saucepan, melt 1 cup of butter over low heat.
Stir in the brown sugar until it's well combined.
Add the oats and cook over low heat for 2 to 3 minutes, or until ingredients are well blended.
Stir in the vanilla extract.
Press half of this mixture into the bottom of a greased 9×9-inch pan. Reserve the other half for the topping.
Prepare the Chocolate Layer:
In another saucepan, melt 1/2 cup of butter.
Add the chocolate chips and stir until the chocolate is melted and the mixture is smooth.
If you're using peanut butter, stir it in now.
Pour the chocolate mixture over the oat layer in the pan, spreading it out evenly.
Finishing Touches:
Crumble the remaining oat mixture over the chocolate layer, pressing in gently.
Cover and refrigerate for 2-3 hours or until set.
Once set, remove from the refrigerator and cut into bars.