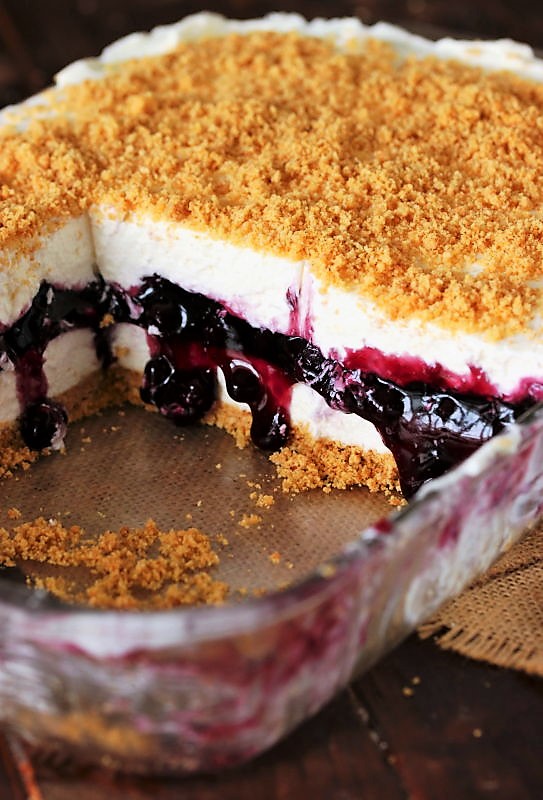 Ingredients

For the dough:
12 sheets graham crackers
1/4 cup sugar
1/2 cup (1 stick) unsalted butter, melted
filling:
2 (8 oz.) packages cream cheese
1 cup powdered sugar
2 cups whipping cream
1 teaspoon vanilla extract
3 tablespoons fresh lemon juice
sauce:
2 cups blueberries
3 tablespoons sugar
1 tablespoon lemon juice
2 tablespoons cold water
1 1/2 tablespoons cornstarch
a hint of vanilla
Preparation:

In a food processor or large ziploc, crush graham crackers into crumbs.
Add sugar and melted butter and mix.
Place in an 8 x 8 inch square pan.
topping:
In a blender, combine cream cheese and powdered sugar.
Add whipping cream, vanilla and lemon juice.
Blend until smooth and thick.
Spread evenly over graham cracker crust.
Cover with plastic wrap and refrigerate for 2 to 3 hours.
Make blueberry sauce
In a saucepan, bring blueberries, sugar and lemon juice to a boil.
Combine water and cornstarch.
Slowly add and incorporate vanilla.
Simmer for 3 minutes.
Pour over cold cheesecake.