New York Cheesecake is an iconic dessert that originates from the bustling city of New York. Renowned for its rich and creamy consistency, this cheesecake stands out due to its use of cream cheese as the primary ingredient. Unlike other cheesecakes that might have a lighter, airy texture, the New York version is dense, velvety, and indulgent. Often paired with a graham cracker crust and served plain or with a range of toppings, from fresh berries to chocolate drizzles, this dessert is a testament to the adage: simplicity is the ultimate sophistication. Whether enjoyed in a New York diner or made at home, it's a slice of heaven in every bite.
Print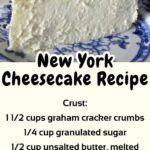 New York Cheesecake Recipe
---
Crust:
1 1/2 cups graham cracker crumbs
1/4 cup granulated sugar
1/2 cup unsalted butter, melted
Filling:
4 cups (or 4 packages, 8 oz each) cream cheese, softened
1 1/4 cups granulated sugar
1 tsp vanilla extract
4 large eggs
1 cup sour cream
1/4 cup all-purpose flour
1/4 cup milk or heavy cream
---
Instructions
Prepare the Crust:
Preheat your oven to 325°F (165°C).
In a mixing bowl, combine the graham cracker crumbs, sugar, and melted butter. Press this mixture firmly into the bottom of a 9-inch springform pan. Set aside.
Prepare the Filling:
In a large mixing bowl, beat the cream cheese until it's smooth and creamy.
Gradually add the sugar and vanilla, and beat until well combined.
Add the eggs one at a time, beating well after each addition.
Mix in the sour cream, flour, and milk (or heavy cream) until smooth.
Baking:
Pour the cream cheese filling over the crust in the springform pan.
Bake in the preheated oven for about 50-60 minutes, or until the center is almost set and the edges are lightly golden.
Turn off the oven and leave the cheesecake in the oven with the door slightly ajar for 1 hour. This helps prevent cracking.
Remove the cheesecake from the oven and let it cool to room temperature. Then refrigerate for at least 4 hours, or overnight.
Serving:
Once chilled, remove the cheesecake from the springform pan.
Slice and serve with your favorite toppings, such as fresh berries, whipped cream, or a drizzle of caramel or chocolate sauce.
Notes
This is a basic recipe, and there are many variations and toppings you can add to customize it to your liking.