Cream puffs have a rich history that dates back to Renaissance Europe. Originally known as "choux à la crème" in France, these delightful pastries have been a favorite for centuries. Over time, the recipe has evolved, with each generation adding its unique touch. Our Mom's Famous Cream Puffs are a testament to this evolution. Passed down through our family, this recipe encapsulates the love and warmth of home. With a crispy outer layer and a creamy filling, every bite takes you on a journey through time, connecting the past with the present. It's not just a dessert; it's a piece of history, a story of love, and a celebration of culinary art.
Print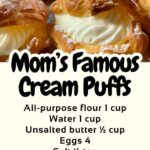 Mom's Famous Cream Puffs
---
All-purpose flour 1 cup
Water 1 cup
Unsalted butter ½ cup
Eggs 4
Salt ¼ tsp
Heavy cream 1 cup
Powdered sugar ½ cup
Vanilla extract 1 tsp
---
Instructions
The Puff Base: In a medium-sized saucepan, combine water, butter, and salt. Bring the mixture to a boil. Once boiling, reduce the heat to low and add the flour, stirring vigorously until the mixture forms a ball. Remove from heat and let it cool for a few minutes.
Beat in the eggs, one at a time, ensuring each egg is fully incorporated before adding the next. The mixture should become smooth and glossy.
Preheat your oven to 200°C. Drop the dough by tablespoonfuls onto a baking sheet lined with parchment paper, ensuring there's enough space between each drop.
Bake in the preheated oven for 20-25 minutes or until golden brown. Once baked, remove from the oven and let them cool on a wire rack.
The Cream Filling: In a mixing bowl, whip the heavy cream, powdered sugar, and vanilla extract until stiff peaks form.
Once the puffs have cooled, make a small slit in the bottom of each puff. Fill a piping bag with the cream filling and pipe it into each puff through the slit.
Dust with additional powdered sugar if desired and serve immediately.