Mississippi Mud Cake is a rich, chocolatey dessert that's a favorite in the Southern United States. It's named after the muddy banks of the Mississippi River due to its dense, fudgy texture and the gooey marshmallow layer that's reminiscent of the river's muddy waters. Here's a classic recipe for you to try:
Print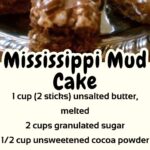 Mississippi Mud Cake
---
1 cup (2 sticks) unsalted butter, melted
2 cups granulated sugar
1/2 cup unsweetened cocoa powder
4 large eggs, beaten
1 teaspoon vanilla extract
1 1/2 cups all-purpose flour
1/2 teaspoon salt
3 cups mini marshmallows
1 cup chopped pecans or walnuts (optional)
For the Chocolate Frosting:
1/2 cup (1 stick) unsalted butter, melted
1/3 cup milk
1/4 cup unsweetened cocoa powder
4 cups powdered sugar
1 teaspoon vanilla extract
---
Instructions
Preheat the Oven: Preheat your oven to 350°F (175°C). Grease a 9×13-inch baking pan.
Prepare the Cake Batter: In a large mixing bowl, combine the melted butter, sugar, and cocoa powder. Mix well. Add the beaten eggs and vanilla extract, and mix until smooth. Gradually add the flour and salt, mixing just until combined.
Bake the Cake: Pour the batter into the prepared baking pan and spread it out evenly. Bake in the preheated oven for about 25-30 minutes, or until a toothpick inserted into the center comes out with a few moist crumbs.
Add Marshmallows: As soon as you remove the cake from the oven, sprinkle the mini marshmallows evenly over the top. Return the cake to the oven for an additional 5 minutes, or until the marshmallows are slightly melted.
Prepare the Frosting: While the cake is baking, make the chocolate frosting. In a medium saucepan, melt the butter over low heat. Add the milk and cocoa powder, and whisk until smooth. Remove from heat and gradually whisk in the powdered sugar and vanilla extract until smooth.
Frost the Cake: Once the cake has been removed from the oven and the marshmallows have melted, spread the chocolate frosting over the warm cake. If desired, sprinkle with chopped pecans or walnuts.
Cool and Serve: Allow the cake to cool completely in the pan on a wire rack. Once cooled, cut into squares and serve.