The Million Dollar Spaghetti Casserole, often referred to as the "Luxurious Millionaire's Spaghetti Delight," has a rich history that dates back to the lavish dinner parties of the Italian elite. This dish, with its layers of creamy goodness and hearty meat sauce, was a symbol of opulence and was often reserved for special occasions. Over the years, it has evolved, with chefs adding their own twists and turns, making it a beloved dish worldwide. Today, it's not just a meal; it's an experience. An experience that promises a journey of flavors, textures, and culinary delight. So, put on your chef's hat, embrace the art of cooking, and let this recipe be a testament to your passion and love for food.
Print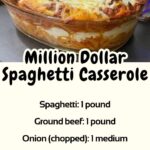 Million Dollar Spaghetti Casserole
---
Spaghetti: 1 pound
Ground beef: 1 pound
Onion (chopped): 1 medium
Garlic cloves (minced): 3
Canned diced tomatoes: 14 ounces
Cream cheese: 8 ounces
Sour cream: 1 cup
Grated Parmesan cheese: 1/2 cup
Shredded mozzarella cheese: 2 cups
Olive oil: 2 tablespoons
Salt: To taste
Black pepper: To taste
Fresh basil (chopped): For garnish
---
Instructions
Preparation of Pasta: In a large pot, boil water with a pinch of salt. Add the spaghetti and cook until al dente. Drain and set aside.
Meat Sauce: In a skillet, heat olive oil over medium heat. Add chopped onions and minced garlic. Sauté until translucent. Add the ground beef and cook until browned. Add the canned diced tomatoes, salt, and pepper. Let it simmer for about 10 minutes.
Creamy Layer: In a mixing bowl, combine cream cheese, sour cream, and grated Parmesan cheese. Mix until smooth.
Assembly: In a casserole dish, layer half of the cooked spaghetti. Spread the creamy mixture over the spaghetti. Layer the remaining spaghetti on top. Pour the meat sauce over the spaghetti, ensuring it's evenly spread. Top with shredded mozzarella cheese.
Baking: Preheat your oven to 180°C. Bake the casserole for 25-30 minutes or until the cheese is melted and bubbly.
Serving: Garnish with fresh basil and serve hot.