Mama's Cornbread Dressing is not just a dish; it's a journey through time, a tapestry of memories woven with love, care, and tradition. Originating from the heart of the South, this recipe has been passed down through generations, evolving with each rendition but always retaining its core essence. The golden crust, the soft and flavorful filling, and the aroma that fills the room as it bakes, all tell a story of family gatherings, laughter, and shared moments. As you prepare this dish, you're not just cooking; you're becoming a part of a legacy, a tradition that celebrates the simple joys of life, family, and good food.
Print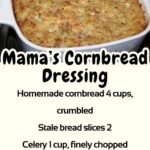 Mama's Cornbread Dressing
---
Homemade cornbread 4 cups, crumbled
Stale bread slices 2
Celery 1 cup, finely chopped
Onion 1 medium, finely chopped
Unsalted butter ½ cup
Chicken broth 2 ½ cups
Eggs 2, beaten
Dried sage 1 tsp
Salt 1 tsp
Ground black pepper ½ tsp
---
Instructions
Preheat the Oven: Start by preheating your oven to 175°C (350°F). This ensures even cooking from the get-go.
Sauté the Vegetables: In a large skillet, melt the butter over medium heat. Add the chopped celery and onion. Sauté until the vegetables are soft and translucent, which should take about 5-7 minutes.
Combine Ingredients: In a large mixing bowl, combine the crumbled cornbread and torn stale bread slices. Add the sautéed vegetables, beaten eggs, dried sage, salt, and pepper. Mix well.
Add Broth: Slowly pour in the chicken broth, stirring continuously. The mixture should be moist but not soggy.
Bake: Transfer the mixture to a greased baking dish. Spread it evenly and bake in the preheated oven for about 45 minutes or until the top is golden brown and crispy.
Serve and Enjoy: Once baked, remove from the oven and let it sit for a few minutes. Serve warm and enjoy the rich flavors of Mama's Cornbread Dressing!