A Taste of the Tropics:
The Key Lime Pie is a classic American dessert that captures the essence of the Florida Keys with every bite. Its unique blend of tartness from the limes and sweetness from the condensed milk creates a harmonious flavor profile that's both refreshing and indulgent.
A Pie Like No Other:
While the name suggests the use of "Key limes," this recipe offers a delightful twist by incorporating ordinary supermarket limes, ensuring that the pie remains accessible to all, no matter where they are. The result? A pie that tastes every bit as authentic as the traditional version, with a touch of convenience.
Crust, Filling, and Topping:
The graham cracker crust provides a crunchy foundation, complementing the creamy lime-infused filling. Topped with a velvety layer of whipped cream and garnished with thin lime slices, this pie is not only a treat for the taste buds but also a feast for the eyes.
Print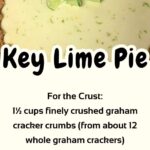 Key Lime Pie
---
For the Crust:
1½ cups finely crushed graham cracker crumbs (from about 12 whole graham crackers)
⅓ cup packed light brown sugar
4 tablespoons (1/4 cup) unsalted butter, melted
For the Filling:
Two 14-ounce cans sweetened condensed milk
1 cup plain Greek yogurt (2% or whole milk)
1 tablespoon grated lime zest
¾ cup fresh lime juice
For the Topping:
1 cup cold heavy cream
2 tablespoons confectioners' sugar
1 teaspoon grated lime zest
8 to 10 thin lime slices (for decoration)
---
Instructions
For the Crust:
Preheat oven to 375 °F and set an oven rack in the middle position.
Combine the graham cracker crumbs, brown sugar, and melted butter. Press the crumbs firmly into the bottom and up the sides of a 9 x 1.5-inch deep-dish pie pan.
Bake for 10 minutes, then let it cool on a wire rack.
For the Filling:
Lower the oven temperature to 350°F.
Whisk together the sweetened condensed milk, yogurt, lime zest, and lime juice. Pour the mixture into the warm graham cracker crust.
Bake for 15 minutes, until almost set. Let it cool at room temperature for 30 minutes, then refrigerate for about 3 hours.
For the Topping:
Beat the heavy cream until soft peaks form. Add the confectioners' sugar and beat until medium peaks form.
Top the pie with the whipped cream and decorate with lime zest and lime slices.
Notes
You can make the crust a day ahead, but the filling should be added on the day of serving to prevent the crust from getting soggy.