The Hot Fudge Pie is more than just a dessert; it's a symphony of flavors that dance on your palate. Originating from the southern heartlands of the United States, this rich and gooey delight has been warming hearts and homes for generations. Each bite is a testament to the timeless allure of chocolate, making it a cherished treat for both young and old. Dive into this culinary masterpiece and let it whisk you away on a journey of pure indulgence.
Print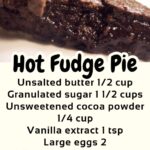 Hot Fudge Pie
---
Unsalted butter 1/2 cup
Granulated sugar 1 1/2 cups
Unsweetened cocoa powder 1/4 cup
Vanilla extract 1 tsp
Large eggs 2
All-purpose flour 1/4 cup
Salt 1/4 tsp
Hot fudge sauce 1/2 cup
---
Instructions
Preheat the Oven: Begin by preheating your oven to 175°C (350°F). This ensures even baking and a perfect crust for your pie.
Melt the Butter: In a medium-sized saucepan, melt the butter over low heat. Once melted, remove from heat.
Mix Dry Ingredients: In a separate bowl, whisk together the granulated sugar and cocoa powder.
Combine Wet and Dry Mixtures: Pour the sugar and cocoa mixture into the melted butter, stirring well. Add the vanilla extract and mix until smooth.
Add Eggs: Beat in the eggs one at a time, ensuring each is fully incorporated before adding the next.
Fold in Flour and Salt: Gently fold in the all-purpose flour and salt, being careful not to overmix.
Pour and Bake: Pour the batter into a greased pie dish. Bake in the preheated oven for 25-30 minutes, or until the center is set but still slightly jiggly.
Serve with Hot Fudge: Once baked, allow the pie to cool for about 10 minutes. Drizzle with hot fudge sauce before serving. Enjoy your slice of heaven!