Roasting has long been a cherished culinary technique, transforming simple ingredients into mouthwatering masterpieces. Among the many dishes that have stood the test of time, Garlic Roasted Chicken and Potatoes holds a special place in the hearts of many. This dish, with its rich history and universal appeal, embodies the essence of comfort food. Whether it's the aroma of garlic wafting through the air or the golden hue of perfectly roasted chicken, every element beckons you to take a journey through flavors and memories. As we delve into this recipe, we invite you to not just cook, but to celebrate the art of cooking, to discover the joy in every sizzle, and to awaken the chef within you. Let's embark on this culinary adventure together, and may your kitchen be filled with love, laughter, and delectable aromas.
Print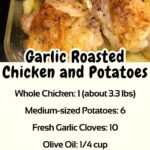 Garlic Roasted Chicken and Potatoes
---
Whole Chicken: 1 (about 3.3 lbs)
Medium-sized Potatoes: 6
Fresh Garlic Cloves: 10
Olive Oil: 1/4 cup
Fresh Rosemary Sprigs: 4
Fresh Thyme Sprigs: 4
Salt: To taste
Freshly Ground Black Pepper: To taste
Lemon (sliced): 1
Butter (melted): 3 tablespoons
---
Instructions
Preparation: Begin by preheating your oven to 392°F (200°C). While the oven heats, clean the chicken and pat it dry. Peel the potatoes and cut them into quarters.
Garlic Infusion: Crush the garlic cloves and mix them with the melted butter. This will be your garlic infusion for the chicken.
Chicken Marination: Rub the chicken with half of the garlic infusion, ensuring you get under the skin for maximum flavor. Season the chicken inside and out with salt and pepper. Place the lemon slices, 2 sprigs of rosemary, and 2 sprigs of thyme inside the chicken cavity.
Potato Preparation: In a large mixing bowl, toss the potato quarters with olive oil, the remaining garlic infusion, salt, and pepper. Spread them out in a roasting pan.
Roasting: Place the chicken on top of the potatoes in the roasting pan. Drizzle any remaining olive oil over the chicken. Place the remaining rosemary and thyme sprigs on top.
Cooking: Roast in the preheated oven for about 1 hour and 30 minutes, or until the chicken is golden brown and the juices run clear. Ensure the potatoes are tender and crisped to perfection.
Serving: Once cooked, let the chicken rest for about 10 minutes before carving. Serve with the roasted potatoes and enjoy the symphony of flavors!