Fresh Apple Bundt Cake: A delightful treat that captures the essence of fall, this Fresh Apple Bundt Cake is brimming with the flavors of sweet and tart apples, complemented by a hint of cinnamon and nutmeg. Moist and rich, this cake is perfect for any occasion, whether it's a cozy family gathering or a festive celebration. The optional glaze drizzled on top adds an extra touch of sweetness, making each slice a bite of pure bliss.
Print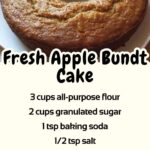 Fresh Apple Bundt Cake
---
3 cups all-purpose flour
2 cups granulated sugar
1 tsp baking soda
1/2 tsp salt
1 tsp ground cinnamon
1/2 tsp ground nutmeg
1 cup vegetable oil
2 tsp vanilla extract
3 large eggs
3 cups peeled, cored, and finely chopped apples (preferably a mix of tart and sweet varieties)
1 cup chopped walnuts or pecans (optional)
1/2 cup raisins (optional)
For the Glaze (optional):
1/2 cup packed brown sugar
1/4 cup unsalted butter
3 tbsp milk
1 tsp vanilla extract
1 cup powdered sugar, sifted
---
Instructions
Preparation: Preheat your oven to 350°F (175°C). Grease and flour a Bundt pan or use a non-stick baking spray.
Dry Ingredients: In a large mixing bowl, whisk together the flour, sugar, baking soda, salt, cinnamon, and nutmeg.
Wet Ingredients: In another bowl, combine the vegetable oil, vanilla extract, and eggs. Beat until smooth.
Combine: Gradually add the wet ingredients to the dry ingredients, mixing just until combined. The batter will be thick.
Add Apples: Fold in the chopped apples, nuts (if using), and raisins (if using) into the batter.
Bake: Pour the batter into the prepared Bundt pan and smooth the top. Bake in the preheated oven for 60-70 minutes, or until a toothpick inserted into the center of the cake comes out clean.
Cool: Remove the cake from the oven and let it cool in the pan for about 10 minutes. Then, invert the cake onto a wire rack to cool completely.
Glaze (optional): In a small saucepan, combine brown sugar, butter, and milk. Bring to a boil and simmer for 1 minute, stirring constantly. Remove from heat and stir in vanilla extract. Gradually whisk in the powdered sugar until smooth. Drizzle the glaze over the cooled cake.
Serve: Once the glaze has set, slice the cake and serve. Enjoy!
Notes
This cake is delicious on its own, but the glaze adds an extra layer of sweetness and flavor. It's perfect for fall gatherings or any time you have a craving for a moist and flavorful apple cake!