Dive into the world of culinary delights with our Epic Beef Nachos Supreme! A dish that seamlessly blends tradition with modern flavors, it promises an unforgettable gastronomic experience. Perfect for gatherings or a quiet evening at home, let each bite transport you to a realm of rich tastes and textures. Happy cooking!
Print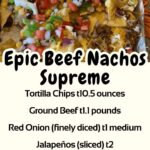 Epic Beef Nachos Supreme
---
Tortilla Chips 10.5 ounces
Ground Beef 1.1 pounds
Red Onion (finely diced) 1 medium
Jalapeños (sliced) 2
Black Beans (drained) 14 ounces (1 can)
Grated Cheddar Cheese 7 ounces
Sour Cream 2/3 cup
Fresh Cilantro (chopped) A handful
Tomatoes (diced) 2 medium
Lime (sliced into wedges) 1
Olive Oil 2 tablespoons
Ground Cumin 1 teaspoon
Ground Paprika 1 teaspoon
Salt and Pepper To taste
---
Instructions
Preparation: Preheat your oven to 200°C. Gather all the ingredients and have them ready by your side. Remember, a well-prepared chef is a successful chef!
Cook the Beef: In a large skillet, heat the olive oil over medium heat. Add the finely diced red onion and sauté until translucent. Add the ground beef, breaking it apart with a spatula. Cook until browned. Season with ground cumin, paprika, salt, and pepper. Stir well and let it simmer for a few minutes.
Layering the Nachos: On a large oven-proof dish, spread out half of the tortilla chips. Evenly distribute half of the beef mixture, black beans, jalapeños, and half of the grated cheddar cheese. Repeat the layers with the remaining ingredients.
Baking: Place the dish in the preheated oven and bake for 10-15 minutes or until the cheese is melted and bubbly.
Serving: Once out of the oven, top the nachos with diced tomatoes, a dollop of sour cream, fresh cilantro, and a squeeze of lime. Serve immediately and enjoy the explosion of flavors!