The Crockpot Christmas Crack, often hailed as the 'Heavenly Holiday Delight', has its origins deeply rooted in festive traditions. This delightful treat, with its rich chocolatey layers and crunchy textures, has evolved over the years, becoming a staple in many holiday feasts. Its simplicity, combined with the rich flavors, makes it a favorite among both young and old. The beauty of this recipe lies not just in its taste, but in the memories it evokes – of families coming together, of laughter and joy, and of the warmth of the holiday season. So, as you prepare this dish, remember that you're not just making a treat, but also weaving a tapestry of beautiful holiday memories.
Print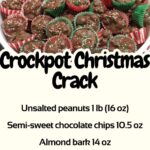 Crockpot Christmas Crack
---
Unsalted peanuts 1 lb (16 oz)
Semi-sweet chocolate chips 10.5 oz
Almond bark 14 oz
White chocolate chips 7 oz
Pretzels (crushed) 5.3 oz
Holiday M&Ms 5.3 oz
---
Instructions
Layering: Begin by layering the ingredients in your crockpot. Start with the peanuts, followed by the chocolate chips, almond bark, and white chocolate chips.
Cooking: Set your crockpot to low heat and let the ingredients melt for 1 to 2 hours. Make sure to stir every 20 minutes to ensure even melting and to prevent any ingredient from burning.
Mixing: Once everything is melted, add the crushed pretzels and give it a good stir, ensuring everything is well combined.
Setting: Using a spoon, drop dollops of the mixture onto parchment paper or silicone baking mats. While still wet, sprinkle the holiday M&Ms on top.
Cooling: Allow the Christmas Crack to cool for several hours. Once set, they can be stored in an airtight container.