Cream Cheese Chicken Enchiladas are a delightful fusion of tender shredded chicken, creamy cheese, and a tangy enchilada sauce, all wrapped up in soft tortillas. This dish is a testament to the magic that happens when simple ingredients come together in perfect harmony. Whether served as a main course for family dinners or as a special treat for gatherings, these enchiladas promise a burst of flavors with every bite. Dive into the recipe below to create your own mouthwatering masterpiece.
Print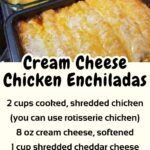 Cream Cheese Chicken Enchiladas
---
2 cups cooked, shredded chicken (you can use rotisserie chicken)
8 oz cream cheese, softened
1 cup shredded cheddar cheese
1 cup shredded Monterey Jack cheese
2 cups enchilada sauce (store-bought or homemade)
1 cup sour cream
1 small can of diced green chilies (optional, for added heat)
1/2 teaspoon ground cumin
1/2 teaspoon garlic powder
Salt and pepper to taste
8–10 tortillas (corn or flour)
Fresh cilantro, chopped (for garnish)
Sliced green onions (for garnish)
---
Instructions
Preparation: Preheat your oven to 375°F (190°C). Lightly grease a large baking dish.
Filling: In a large mixing bowl, combine the shredded chicken, cream cheese, half of the cheddar cheese, half of the Monterey Jack cheese, diced green chilies (if using), cumin, garlic powder, salt, and pepper. Mix until well combined.
Assembly: Lay out a tortilla on a flat surface. Place a generous amount of the chicken mixture down the center of the tortilla. Roll up the tortilla and place it seam-side down in the baking dish. Repeat with the remaining tortillas.
Sauce: In a separate bowl, mix the enchilada sauce and sour cream until well combined. Pour this mixture over the enchiladas in the baking dish, making sure they are fully covered.
Topping: Sprinkle the remaining cheddar and Monterey Jack cheese on top of the enchiladas.
Baking: Place the baking dish in the preheated oven and bake for about 25-30 minutes, or until the cheese is melted and bubbly.
Garnish and Serve: Once baked, remove from the oven and let it cool slightly. Garnish with chopped cilantro and sliced green onions. Serve hot with a side of rice or salad.