Conchitas with Ground Beef, or "Conchitas Con Carne," is a traditional Mexican dish that beautifully marries the robust flavors of ground beef with the delicate texture of shell pasta. Originating from the heart of Mexico, this dish has evolved over the years, with families adding their unique touch. The tomato broth, combined with a medley of spices, creates a symphony of flavors that dance on your palate. This recipe is inspired by the traditional version but has been modified to be gluten-free, offering a wholesome and delightful experience.
Print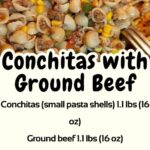 Conchitas with Ground Beef
---
Conchitas (small pasta shells) 1.1 lbs (16 oz)
Ground beef 1.1 lbs (16 oz)
Onion, finely chopped 1 large
Garlic cloves, minced 3
Tomato sauce 1.7 cups (13.5 fl oz)
Olive oil 2 tbsp
Salt To taste
Black pepper To taste
Red bell pepper, chopped 1
Fresh parsley, chopped A handful
---
Instructions
Boil the Pasta: In a large pot, bring water to a boil. Add a pinch of salt and the conchitas. Cook until al dente, then drain and set aside.
Cook the Beef: In a large skillet, heat the olive oil over medium heat. Add the onions and garlic, sautéing until translucent. Add the ground beef, breaking it apart with a spatula. Cook until browned.
Add the Flavors: Stir in the red bell pepper, tomato sauce, salt, and black pepper. Let it simmer for about 10 minutes, allowing the flavors to meld.
Combine: Add the cooked conchitas to the beef mixture, stirring gently to combine.
Serve: Garnish with fresh parsley and serve hot. Enjoy your culinary masterpiece!