Coconut Cake with 7-Minute Frosting: A Taste of Nostalgia
Indulge in the rich flavors of this classic dessert that brings together the tropical essence of coconut with the velvety smoothness of a 7-minute frosting. Inspired by cherished family recipes, this cake promises not just a delightful treat for your taste buds but also a journey down memory lane. Whether you're celebrating a special occasion or simply craving a slice of comfort, this coconut cake is sure to impress and satisfy.
Print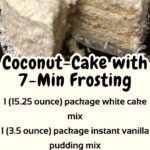 Coconut-Cake with 7-Min Frosting
---
Filling:
1 ½ cups white sugar
2 (6-ounce) packages frozen coconut
1 (8 ounce) container sour cream
Cake:
1 (15.25 ounce) package white cake mix
1 (3.5 ounce) package instant vanilla pudding mix
1 cup water
½ cup vegetable oil
2 large eggs
2 large egg whites
1 teaspoon vanilla extract
Frosting:
¾ cup white sugar
⅓ cup light corn syrup
2 large egg whites
1 tablespoon water
¼ teaspoon vanilla extract
¼ teaspoon cream of tartar
½ cup flaked sweetened coconut
---
Instructions
Preheat oven to 350 degrees F (175 degrees C), or 325 degrees F (165 degrees C) for coated pans. Spray two 8-inch round cake pans with cooking spray.
Stir sugar, frozen coconut, and sour cream for filling together in a medium bowl until well combined. Set aside in the fridge until ready to use.
Combine cake mix, pudding mix, water, oil, eggs, egg whites, and vanilla for cake in the bowl of a stand mixer fitted with a whisk attachment. Blend on medium speed for 3 minutes, scraping down the sides of the bowl as necessary. Pour batter into the prepared pans.
Bake in the preheated oven until golden brown and a toothpick inserted into the center comes out clean, about 25 minutes. Remove from the oven and cool in the pans for 5 minutes, then invert onto a parchment-lined cooling rack to cool completely, about 30 minutes.
Use a large, serrated knife to cut each cake layer in half lengthwise; you will have 4 pieces. Flip top pieces so all cut sides are facing up. Stack layers and filling on a serving platter as follows: 1 bottom layer, 1/3 of the filling, 1 top layer, 1/3 of the filling, remaining bottom layer, remaining filling, remaining top layer. Cover and chill, 30 minutes to overnight.
Combine sugar, corn syrup, egg whites, water, vanilla, and cream of tartar for frosting in a large heat-proof bowl; stir until well combined. Place the bowl over a double boiler and whisk using an electric hand mixer until thick and glossy, about 7 minutes. Take care that the double boiler doesn't reach higher than a slow simmer.
Spread frosting over cooled cake immediately and sprinkle with shredded coconut.
Notes
Look for frozen coconut in the freezer section near the frozen fruit.
To give the cake even more coconut flavor, add a dash of coconut extract to cake mix.
Make the filling while the cake is baking and cooling; it needs to sit in the fridge to thicken up.
Start frosting the cake immediately after the frosting is finished cooking, as it stiffens up quickly.
No need for a crumb coat first because the frosting is rich and thick.
Give the cake a light dusting of shredded coconut for an extra pretty look.
Dip your knife into a cup of very hot water to make slicing the cake cleaner and easier.