Chicken Parmesan, or as the Italians call it, "pollo alla parmigiana", is a delightful dish that has traveled from the heart of Italy to the bustling streets of America. Originating from the Italian diaspora in the United States during the early 20th century, this dish is believed to be a fusion of the Italian "parmigiana di melanzane" (a dish using fried eggplant slices) and "cotoletta", a breaded veal cutlet. Over the years, Chicken Parmesan has evolved and found its place in various cuisines around the world, from the pubs of Australia to the fusion kitchens of Asia. Today, it stands as a testament to the beautiful blend of cultures and the ever-evolving nature of food.
Print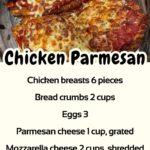 Chicken Parmesan
---
Chicken breasts 6 pieces
Bread crumbs 2 cups
Eggs 3
Parmesan cheese 1 cup, grated
Mozzarella cheese 2 cups, shredded
Tomato sauce 3 cups
Fresh basil 6 leaves
Olive oil For frying
Salt To taste
Black pepper To taste
---
Instructions
Begin by preheating your oven to 200°C.
In a bowl, whisk the eggs. In another bowl, mix bread crumbs with half of the grated parmesan cheese.
Season the chicken breasts with salt and pepper. Dip each chicken breast into the egg mixture, then coat with the breadcrumb mixture.
Heat olive oil in a skillet over medium heat. Fry each chicken breast until golden brown on both sides.
Place the fried chicken breasts in a baking dish. Pour tomato sauce over each piece, ensuring they are well-covered.
Sprinkle mozzarella and the remaining parmesan cheese on top.
Bake in the oven for 20-25 minutes, or until the cheese is bubbly and golden.
Garnish with fresh basil leaves before serving.