Cheesy Chicken Fritters, a dish that has its roots in the heart of European cuisine, has evolved over the years to become a favorite in households worldwide. Its origin can be traced back to the times when leftover chicken and cheese were combined to create a delicious snack. Over time, as culinary arts advanced, this simple dish was refined and enhanced with various ingredients, making it the delectable treat we know today. The fusion of tender chicken with the rich flavor of cheese encapsulates a journey of taste evolution, bringing together the old and the new in a symphony of flavors.
Print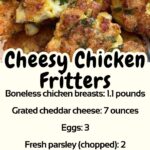 Cheesy Chicken Fritters
---
Boneless chicken breasts: 1.1 pounds
Grated cheddar cheese: 7 ounces
Eggs: 3
Fresh parsley (chopped): 2 tablespoons
Garlic cloves (minced): 2
All-purpose flour: 3/4 cup
Salt: 1 teaspoon
Black pepper: 1/2 teaspoon
Olive oil: For frying
---
Instructions
Preparation of Chicken: Begin by finely chopping the boneless chicken breasts or processing them in a food processor until they reach a minced consistency.
Mixing Ingredients: In a large mixing bowl, combine the minced chicken, grated cheddar cheese, minced garlic, chopped parsley, and eggs. Mix well until all ingredients are well combined.
Adding Flour: Gradually add the all-purpose flour to the mixture, ensuring it blends well with the chicken mixture.
Seasoning: Season the mixture with salt and black pepper, and give it a good stir.
Shaping the Fritters: Using your hands, shape the mixture into small patties.
Cooking: In a frying pan, heat the olive oil over medium heat. Once hot, place the chicken fritters in the pan, ensuring they don't overlap. Cook each side for about 4-5 minutes or until they turn golden brown.
Serving: Once cooked, place the fritters on a plate lined with paper towels to absorb any excess oil. Serve hot with your favorite dipping sauce or salad.