Carrot Cake Sheet Cake: A delightful dessert that combines the earthy sweetness of carrots with the richness of a moist cake. This sheet cake version is perfect for serving at gatherings, ensuring everyone gets a piece topped with luscious cream cheese frosting. Whether it's for a birthday, holiday, or just a treat, this carrot cake is sure to be a crowd-pleaser!
Print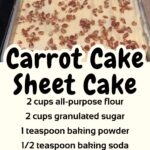 Carrot Cake Sheet Cake
---
2 cups all-purpose flour
2 cups granulated sugar
1 teaspoon baking powder
1/2 teaspoon baking soda
1/2 teaspoon salt
1 teaspoon ground cinnamon
1/2 teaspoon ground nutmeg
1 cup vegetable oil
4 large eggs
2 cups grated carrots (about 4 medium-sized carrots)
1/2 cup crushed pineapple, drained
1/2 cup chopped walnuts or pecans (optional)
1 teaspoon vanilla extract
Cream Cheese Frosting:
8 oz cream cheese, softened
1/2 cup unsalted butter, softened
4 cups powdered sugar
1 teaspoon vanilla extract
2–3 tablespoons milk or heavy cream
---
Instructions
Preheat the Oven: Preheat your oven to 350°F (175°C). Grease and flour a 9×13-inch baking pan or line it with parchment paper.
Dry Ingredients: In a large mixing bowl, whisk together the flour, sugar, baking powder, baking soda, salt, cinnamon, and nutmeg.
Wet Ingredients: In another bowl, whisk together the vegetable oil, eggs, and vanilla extract until well combined.
Combine: Gradually add the wet ingredients to the dry ingredients, mixing just until combined.
Add Carrots and Pineapple: Fold in the grated carrots, crushed pineapple, and nuts (if using).
Bake: Pour the batter into the prepared baking pan and spread it out evenly. Bake in the preheated oven for 30-35 minutes or until a toothpick inserted into the center comes out clean.
Prepare the Frosting: While the cake is baking, prepare the cream cheese frosting. In a large mixing bowl, beat together the cream cheese and butter until smooth and creamy. Gradually add the powdered sugar, vanilla extract, and milk or heavy cream, beating until smooth and spreadable. Adjust the consistency by adding more milk or powdered sugar as needed.
Cool and Frost: Once the cake is done baking, remove it from the oven and allow it to cool completely in the pan. Once cooled, spread the cream cheese frosting evenly over the top.
Serve: Cut the cake into squares and serve. Enjoy!
Notes
You can also add raisins or coconut to the batter if desired. Adjust the ingredients according to your preferences.