Bread, a staple that has graced our tables for millennia, has seen countless variations. Among these, the Caramel Cream Cheese Bread stands out as a modern delicacy. Marrying the richness of cream cheese with the sweetness of caramel, this bread is a testament to culinary innovation. Dive into this recipe and embark on a delightful gastronomic journey. 🍞✨
Print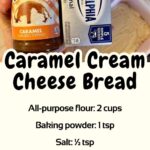 Caramel Cream Cheese Bread
---
All-purpose flour: 2 cups
Baking powder: 1 tsp
Salt: ½ tsp
Cream cheese: 200g
Unsalted butter: 100g
Granulated sugar: 1 cup
Eggs: 3
Vanilla extract: 1 tsp
Caramel sauce: ½ cup
---
Instructions
Preheat the Oven: Begin by preheating your oven to 180°C. While it's warming up, let the anticipation build for the delightful treat you're about to create.
Dry Ingredients: In a large mixing bowl, whisk together the all-purpose flour, baking powder, and salt. This forms the foundation of our bread, ensuring it rises perfectly and has a delightful texture.
Creamy Mixture: In another bowl, beat the cream cheese, unsalted butter, and granulated sugar until the mixture is smooth and creamy. This step is crucial for that melt-in-your-mouth sensation.
Egg Addition: Gradually add the eggs one at a time, beating well after each addition. This ensures our bread has a rich and moist consistency.
Vanilla Essence: Stir in the vanilla extract to infuse our bread with a hint of aromatic sweetness.
Combine: Gently fold the dry ingredients into the creamy mixture until just combined. Be gentle and patient; good things take time.
Baking: Pour the batter into a greased loaf pan and bake for 45-50 minutes or until a toothpick inserted comes out clean.
Caramel Drizzle: Once baked, allow the bread to cool slightly. Drizzle generously with caramel sauce, letting it seep into the bread and pool around the edges.
Serve and Enjoy: Slice up your masterpiece and serve. Each bite is a harmonious blend of creamy cheese, sweet caramel, and perfectly baked bread.