Buttery Pecan Snowball Cookies are a delightful treat, especially during the holiday season. These cookies have a rich and tender texture, made from a mix of butter, flour, and finely chopped pecans. Once baked, they're rolled in powdered sugar, giving them a snowy appearance, which is why they're often referred to as "snowball cookies." The combination of the buttery base with the nutty flavor of the pecans makes them irresistibly delicious. Here's a detailed recipe for you:
Print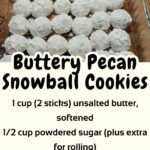 Buttery Pecan Snowball Cookies
---
1 cup (2 sticks) unsalted butter, softened
1/2 cup powdered sugar (plus extra for rolling)
2 cups all-purpose flour
1/4 teaspoon salt
1 teaspoon vanilla extract
1 1/2 cups finely chopped pecans
---
Instructions
Preparation: Preheat your oven to 350°F (175°C). Line a baking sheet with parchment paper or a silicone baking mat.
Creaming: In a large mixing bowl, cream together the softened butter and 1/2 cup of powdered sugar until it's smooth and well combined.
Add Vanilla: Mix in the vanilla extract.
Dry Ingredients: In a separate bowl, whisk together the flour and salt. Gradually add this to the butter mixture, blending well after each addition.
Pecans: Stir in the finely chopped pecans until evenly distributed throughout the dough.
Shape: Take small amounts of dough (about a tablespoon) and roll them into balls. Place them on the prepared baking sheet, spacing them about an inch apart.
Bake: Place the baking sheet in the preheated oven and bake for 12-15 minutes or until the bottoms of the cookies are lightly golden.
Sugar Coating: Once baked, allow the cookies to cool slightly. While they're still warm, roll them in powdered sugar. Place them on a cooling rack to cool completely. Once cooled, you can roll them in powdered sugar again for an extra snowy appearance.
Serve and Enjoy: These cookies can be served immediately or stored in an airtight container for up to a week.
Notes
For a more pronounced pecan flavor, you can toast the pecans lightly before adding them to the dough.
These cookies can be frozen for up to a month. Just make sure to thaw them and roll in powdered sugar before serving.