Banana Pudding Cheesecake Squares combine the creamy richness of cheesecake with the comforting flavors of classic banana pudding. Featuring layers of vanilla wafer crust, luscious banana-infused cheesecake, and creamy banana pudding topped with whipped cream and garnished with wafer cookies and banana slices, this dessert is a delightful fusion of two beloved treats. Perfect for gatherings, celebrations, or just a sweet indulgence, these squares are sure to be a hit with both cheesecake and banana pudding enthusiasts!
Print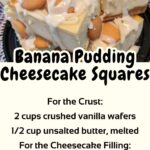 Banana Pudding Cheesecake Squares
---
For the Crust:
2 cups crushed vanilla wafers
1/2 cup unsalted butter, melted
For the Cheesecake Filling:
2 packages (8 oz each) cream cheese, softened
1/2 cup granulated sugar
2 large eggs
1 tsp vanilla extract
2 ripe bananas, mashed
For the Banana Pudding Layer:
1 package (3.4 oz) instant banana pudding mix
2 cups cold milk
1 cup whipped cream or whipped topping
For the Topping:
1 cup whipped cream or whipped topping
Sliced bananas for garnish
Vanilla wafers for garnish
---
Instructions
Prepare the Crust: Preheat the oven to 325°F (165°C). In a medium bowl, combine the crushed vanilla wafers and melted butter. Press the mixture firmly into the bottom of a 9×9-inch baking dish. Bake for 10 minutes, then remove from the oven and set aside.
Make the Cheesecake Filling: In a large bowl, beat the cream cheese and sugar together until smooth and creamy. Add the eggs one at a time, beating well after each addition. Stir in the vanilla extract and mashed bananas. Pour the filling over the prepared crust.
Bake for 25-30 minutes, or until the center is set and the edges are lightly browned. Remove from the oven and let cool to room temperature.
Prepare the Banana Pudding Layer: In a medium bowl, whisk together the banana pudding mix and cold milk until smooth. Fold in the whipped cream. Spread the pudding mixture over the cooled cheesecake layer.
Add the Topping: Spread the whipped cream over the banana pudding layer. Garnish with sliced bananas and vanilla wafers.
Refrigerate for at least 4 hours, or overnight, before serving.
Cut into squares and serve chilled.