There's something truly magical about the aroma of apples and cinnamon wafting through the house. It's a scent that promises warmth, comfort, and a touch of nostalgia. Enter the Apple Spice Fritter Bread, a delightful fusion of the classic apple fritter and a tender, moist loaf. This bread is not just a treat for the taste buds, but also a journey down memory lane, evoking memories of autumn days, cozy blankets, and the joy of sharing a homemade treat with loved ones.
Crafted with love and simple ingredients, this bread boasts layers of sweet apples intertwined with a cinnamon-spiced batter, culminating in a golden crust sprinkled with a hint of sugar. The finishing touch, a drizzle of silky glaze, adds an extra layer of sweetness, making each slice a perfect accompaniment to a steaming cup of coffee or tea. Whether you're looking to start your morning on a sweet note, searching for the perfect afternoon pick-me-up, or hoping to impress guests at a gathering, the Apple Spice Fritter Bread is sure to be a cherished addition to your baking repertoire.
Print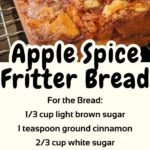 Apple Spice Fritter Bread
---
For the Bread:
1/3 cup light brown sugar
1 teaspoon ground cinnamon
2/3 cup white sugar
1/2 cup unsalted butter, softened
2 large eggs
1 1/2 teaspoons vanilla extract
1 1/2 cups all-purpose flour
1 3/4 teaspoons baking powder
1/2 cup milk
2 apples, peeled and chopped (any variety, but Granny Smith or Honeycrisp work well)
2 teaspoons ground cinnamon
2 tablespoons granulated sugar
For the Glaze:
1/2 cup powdered sugar
2–3 tablespoons milk or cream
---
Instructions
Preparation:
Preheat your oven to 350°F (175°C). Grease a 9×5-inch loaf pan or line it with parchment paper.
Bread Mixture:
In a small bowl, mix the light brown sugar and 1 teaspoon of cinnamon together. Set aside.
In a larger bowl, beat the white sugar and butter together until smooth and creamy.
Beat in the eggs, one at a time, until blended in. Add in the vanilla extract.
Combine the flour and baking powder in another bowl. Add this mixture into the creamed butter mixture and stir until blended.
Mix the milk into the batter until smooth.
Pour half of the batter into the prepared loaf pan. Add half of the chopped apples on top. Sprinkle with half of the brown sugar-cinnamon mixture.
Pour the remaining batter over the apple layer and top with the remaining apples and brown sugar-cinnamon mixture.
Lightly press the apples into the batter. Mix the 2 tablespoons of granulated sugar and 2 teaspoons of cinnamon together and sprinkle over the top of the loaf.
Baking:
Bake in the preheated oven for 50-60 minutes or until a toothpick inserted into the center of the loaf comes out clean.
Let the bread cool in the pan for about 15 minutes before transferring it to a wire rack to cool completely.
Glaze:
In a small bowl, mix the powdered sugar and milk or cream together until well blended. If the glaze is too thick, add more milk or cream to reach the desired consistency.
Drizzle the glaze over the cooled bread.
Slice and enjoy your Apple Spice Fritter Bread!
Notes
This bread is best enjoyed fresh, but it can be stored in an airtight container for up to 3 days. If you prefer a more intense apple flavor, you can add a touch of apple pie spice to the batter.