Crispy Chicken Salad Casserole is a delightful fusion of tender shredded chicken, crunchy celery, and crispy fried onions, all baked to perfection with a creamy base. Topped with melted cheddar cheese and an optional sprinkle of almonds, this dish offers a symphony of textures and flavors. Whether served as a main dish or a side, it's sure to be a hit at family dinners or potluck gatherings. Enjoy the comforting taste of this casserole, where every bite promises a mix of creaminess and crunch!
Print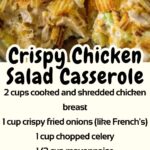 Crispy Chicken Salad Casserole
---
2 cups cooked and shredded chicken breast
1 cup crispy fried onions (like French's)
1 cup chopped celery
1/2 cup mayonnaise
1/2 cup sour cream
1 cup shredded cheddar cheese
1/2 cup sliced almonds (optional)
1/2 teaspoon garlic powder
1/2 teaspoon onion powder
Salt and pepper to taste
1/2 cup crushed potato chips or additional crispy fried onions for topping
Fresh parsley for garnish (optional)
---
Instructions
Preheat Oven: Preheat your oven to 375°F (190°C).
Mix Ingredients: In a large mixing bowl, combine the shredded chicken, chopped celery, mayonnaise, sour cream, half of the crispy fried onions, garlic powder, onion powder, and half of the shredded cheddar cheese. Mix well until all ingredients are well combined. Season with salt and pepper to taste.
Add to Casserole Dish: Transfer the mixture to a greased casserole dish, spreading it out evenly.
Top with Cheese and Almonds: Sprinkle the remaining shredded cheddar cheese and sliced almonds (if using) over the top of the casserole.
Bake: Place the casserole in the preheated oven and bake for about 20-25 minutes, or until the cheese is melted and bubbly.
Add Crispy Topping: Remove the casserole from the oven and sprinkle the crushed potato chips or additional crispy fried onions over the top. Return to the oven and bake for an additional 5-7 minutes, or until the topping is golden brown and crispy.
Serve: Remove from the oven and let it cool for a few minutes. Garnish with fresh parsley if desired. Serve warm.
Notes
You can add other vegetables like diced bell peppers or green onions for added flavor and color.
If you prefer a creamier texture, you can increase the amount of mayonnaise and sour cream.