Savor the essence of the ocean with our Luxurious Coastal Crab Delight Salad. Melding the delicate taste of crab with the richness of shrimp, complemented by crunchy vegetables and a lively dressing, this salad is a culinary masterpiece. Ideal for those moments when you crave a touch of seaside sophistication at your dining table. Let each bite whisk you away to a tranquil coastal retreat. 🦀🍤🏖️
Print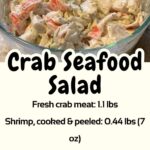 CRAB SEAFOOD SALAD
---
Fresh crab meat: 1.1 lbs
Shrimp, cooked & peeled: 0.44 lbs (7 oz)
Celery, finely chopped: 3 stalks
Red bell pepper, diced: 1
Green onions, sliced: 3
Fresh dill, chopped: 2 tablespoons
Mayonnaise: 1 cup
Lemon juice: 2 tablespoons
Dijon mustard: 1 tablespoon
Salt & pepper: To taste
---
Instructions
Begin by ensuring that the crab meat is free from any shells. Place it in a large mixing bowl.
Add the cooked shrimp to the bowl with the crab meat.
Incorporate the finely chopped celery, diced red bell pepper, and sliced green onions to the seafood mixture.
In a separate smaller bowl, whisk together the mayonnaise, lemon juice, Dijon mustard, fresh dill, salt, and pepper. This will form a creamy dressing for the salad.
Pour the dressing over the seafood and vegetable mixture. Gently fold everything together, ensuring the seafood is well-coated with the dressing.
Chill the salad in the refrigerator for at least 1 hour before serving. This allows the flavors to meld together beautifully.
Serve the crab seafood salad on a bed of fresh lettuce or with crusty bread on the side. Garnish with additional dill or lemon wedges if desired.