Cinnamon Bread, a delicacy that has its roots deeply embedded in history. The allure of cinnamon dates back to 2,000 B.C., where it was so highly prized that it was considered a gift fit for monarchs. The first cinnamon roll, a close relative to our beloved cinnamon bread, was baked in Sweden, where it became an integral part of their culture. Over the years, the recipe evolved, adapting to various tastes and preferences across the globe. Today, our Royal Cinnamon Delight Loaf is a tribute to this rich history, combining the age-old charm of cinnamon with the warmth of freshly baked bread. Dive into this culinary journey and discover the magic of baking!
Print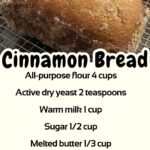 Cinnamon Bread
---
All-purpose flour 4 cups
Active dry yeast 2 teaspoons
Warm milk 1 cup
Sugar 1/2 cup
Melted butter 1/3 cup
Egg 1
Salt 1/2 teaspoon
Ground cinnamon 2 teaspoons
---
Instructions
In a large mixing bowl, combine the warm milk, sugar, and active dry yeast. Let it sit for about 10 minutes until it becomes frothy.
Add the melted butter, egg, and salt to the mixture and stir well.
Gradually add the flour, mixing continuously until a soft dough forms.
Transfer the dough to a floured surface and knead for about 10 minutes until it becomes smooth and elastic.
Place the dough in a greased bowl, cover with a damp cloth, and let it rise in a warm place for about 1 hour or until it doubles in size.
Once risen, punch down the dough and roll it out into a rectangle.
Sprinkle the ground cinnamon evenly over the surface of the dough.
Roll the dough tightly from the long side and place it in a greased loaf pan.
Cover and let it rise again for about 30 minutes.
Preheat your oven to 350°F.
Bake the cinnamon bread for about 25-30 minutes or until it sounds hollow when tapped.
Remove from the oven and let it cool on a wire rack.