Salted Caramel Cracker Bites are a delightful treat that perfectly balances the sweetness of caramel with the savory hint of salt, all layered on a crunchy cracker base. Topped with a smooth chocolate layer and a sprinkle of sea salt, these bites are a harmonious blend of textures and flavors. Whether you're looking for a quick snack, a party appetizer, or a decadent dessert, these cracker bites are sure to satisfy your cravings!
Print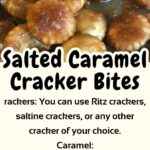 Salted Caramel Cracker Bites
---
Crackers:
You can use Ritz crackers, saltine crackers, or any other cracker of your choice.
Caramel:
1 cup granulated sugar
6 tbsp unsalted butter, cut into pieces
1/2 cup heavy cream
1 tsp vanilla extract
1/2 tsp salt
Chocolate Topping:
1 cup semi-sweet chocolate chips
1 tbsp coconut oil or shortening (optional, for smoother melting)
Coarse sea salt, for sprinkling
---
Instructions
Prepare the Caramel:
In a medium saucepan, heat the sugar over medium heat. Stir constantly with a rubber spatula or wooden spoon. The sugar will form clumps and eventually melt into a thick brown liquid. Be careful not to burn it.
Once the sugar is completely melted, add the butter. Be careful as the caramel will bubble rapidly when the butter is added.
Stir the butter into the caramel until it is completely melted.
Slowly pour in the heavy cream while stirring. Again, be careful as the mixture will bubble.
Allow the mixture to boil for about 1 minute without stirring.
Remove from heat and stir in the vanilla extract and salt. Allow to cool slightly before using.
Assemble the Cracker Bites:
Lay out your crackers on a parchment-lined baking sheet.
Spoon a small amount of caramel onto each cracker, spreading it out to cover the surface.
Allow the caramel to set for about 10 minutes.
Chocolate Topping:
In a microwave-safe bowl, combine the chocolate chips and coconut oil or shortening. Microwave in 20-second intervals, stirring after each interval until the chocolate is fully melted and smooth.
Spoon a small amount of melted chocolate onto each caramel-covered cracker, spreading it out to cover the caramel.
While the chocolate is still wet, sprinkle a pinch of coarse sea salt on top of each cracker bite.
Set and Serve:
Allow the Salted Caramel Cracker Bites to set in the refrigerator for about 30 minutes or until the chocolate is firm.
Once set, serve and enjoy!