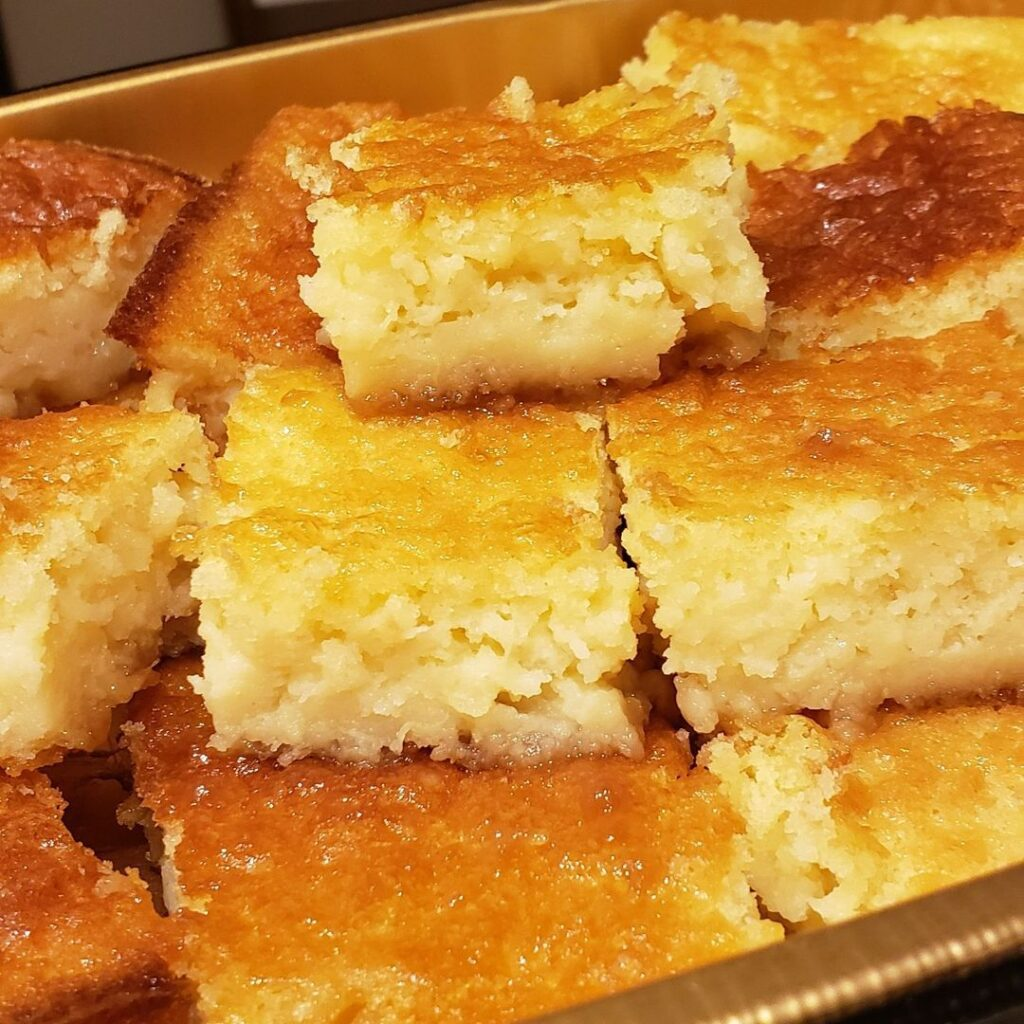 Pineapple Cake Bars are a delightful and delectable dessert that embodies the essence of the tropics in each bite. These moist and flavorful bars combine the natural sweetness of ripe pineapple with a tender cake base, creating a harmonious balance of flavors and textures.
The cake base, soft and moist, is infused with the tangy-sweet taste of crushed pineapple. As you take a bite, the tropical aroma wafts through the air, evoking images of sandy beaches and swaying palm trees. The burst of juicy pineapple in every mouthful adds a refreshing and delightful surprise, elevating the cake to a whole new level of deliciousness.
The contrasting elements of soft cake and succulent pineapple create an enticing experience for the taste buds. The subtle hints of vanilla and butter add a comforting richness, making these bars an ideal treat for any occasion, from casual gatherings to special celebrations.
A touch of shredded coconut, if included in the recipe, enhances the tropical profile, providing a delicate nutty undertone that perfectly complements the pineapple's sweetness. The optional dusting of confectioners' sugar on top adds a final touch of elegance, enticing you to indulge in this tropical delight.
Whether enjoyed on a sunny afternoon or as a sweet finale to a delightful meal, Pineapple Cake Bars offer a burst of sunshine and an unforgettable taste experience. These bars are sure to win the hearts of both pineapple lovers and dessert enthusiasts alike, leaving them craving for more of this tropical goodness.
Ingredients
For the Crust and Topping:
Pinch of salt
1 ½ cups all-purpose flour
¾ cup cold butter, cubed
½ cup sugar
For the Filling:
Pinch of salt
2 large eggs
½ cup flour
1 cup sugar
16 oz can crushed pineapple
½ cup sour cream
For the Icing:
1 teaspoon coconut extract
1 cup powdered sugar
2 tablespoons half and half
How To Make Pineapple Cake Bars
Preheat the oven to 350 degrees Fahrenheit (175 degrees Celsius).
In a bowl, combine the flour and sugar for the crust mixture.
Cut in the cold butter until the mixture becomes crumbly. Set aside 1 cup of this mixture for later use.
Press the remaining crust mixture into the bottom of a well-greased 9×13-inch baking dish.
Bake the crust for 15 minutes until lightly golden.
In another bowl, blend together the filling ingredients until well combined. Spread the filling over the pre-baked crust in the baking dish.
Sprinkle the reserved crust mixture over the filling, creating a crumbled topping.
Bake the bars for 1 hour, or until the top is golden and the filling is set.
Allow the bars to cool for 15-20 minutes.
In a separate bowl, beat together the icing ingredients until smooth and well combined.
Drizzle the coconut-infused icing over the bars, adding more half and half if needed to achieve the desired consistency.
Slice the bars into individual servings and serve.