Indulge in a creamy and savory fusion of penne pasta, succulent shrimp, and fresh spinach, all brought together with a rich Parmesan cheese sauce. This dish offers a delightful blend of flavors and textures, making it a perfect choice for a cozy dinner or a special occasion. Garnished with fresh herbs and a hint of spice, it's a culinary experience that's sure to impress!
Print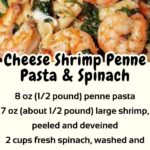 Cheese Shrimp Penne Pasta & Spinach
---
8 oz (1/2 pound) penne pasta
7 oz (about 1/2 pound) large shrimp, peeled and deveined
2 cups fresh spinach, washed and roughly chopped
2 cloves garlic, minced
1 cup heavy cream or half-and-half
1 cup grated Parmesan cheese
1/2 cup cherry tomatoes, halved (optional)
2 tbsp olive oil or butter
Salt and pepper, to taste
Red pepper flakes (optional, for a bit of heat)
Fresh basil or parsley, for garnish
---
Instructions
Pasta Preparation: In a large pot of boiling salted water, cook the penne pasta according to the package instructions until al dente. Drain and set aside.
Shrimp Preparation: In a large skillet or pan, heat the olive oil or butter over medium heat. Add the minced garlic and sauté until fragrant. Add the shrimp to the pan and cook until they turn pink on both sides. Remove the shrimp and set them aside.
Sauce Preparation: In the same skillet, add the heavy cream or half-and-half. Bring it to a gentle simmer, then stir in the grated Parmesan cheese until the sauce thickens. Season with salt, pepper, and red pepper flakes (if using).
Combining Ingredients: Add the cooked penne pasta, shrimp, and chopped spinach to the skillet. Toss everything together until the pasta is well-coated with the sauce and the spinach has wilted. If you're using cherry tomatoes, add them now and give everything another gentle stir.
Serving: Transfer the pasta to serving dishes. Garnish with fresh basil or parsley. Serve immediately.
Notes
You can add other vegetables like bell peppers or mushrooms for added flavor and texture.
If you prefer a spicier dish, increase the amount of red pepper flakes or add a dash of cayenne pepper.
For a richer flavor, consider adding a splash of white wine to the sauce.