Caramelized walnuts have long been a cherished treat, blending the earthy crunch of walnuts with the sweet allure of caramel. Our 5 Minute Caramel Walnuts recipe is a modern take on this classic delight, offering a quick and delectable treat that's perfect for any occasion. Dive into this culinary journey and discover the magic of simple ingredients coming together in harmony.
Print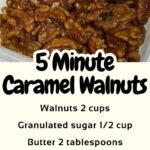 5 Minute Caramel Walnuts
---
Walnuts 2 cups
Granulated sugar 1/2 cup
Butter 2 tablespoons
Salt 1/4 teaspoon
Vanilla extract 1/2 teaspoon
---
Instructions
Start by laying out a sheet of parchment paper on a flat surface. This will be where you place the caramelized walnuts to cool.
In a medium-sized skillet, melt the butter over medium heat.
Once the butter is melted, add the granulated sugar and stir continuously until the sugar is fully dissolved.
Add the walnuts to the skillet and stir to ensure they are fully coated with the butter and sugar mixture.
Continue to cook the walnuts, stirring frequently, for about 3-4 minutes or until they are beautifully golden brown and caramelized.
Remove the skillet from the heat and quickly stir in the vanilla extract and salt.
Transfer the caramelized walnuts to the prepared parchment paper, spreading them out in a single layer.
Allow the walnuts to cool completely. They will become wonderfully crunchy as they cool.