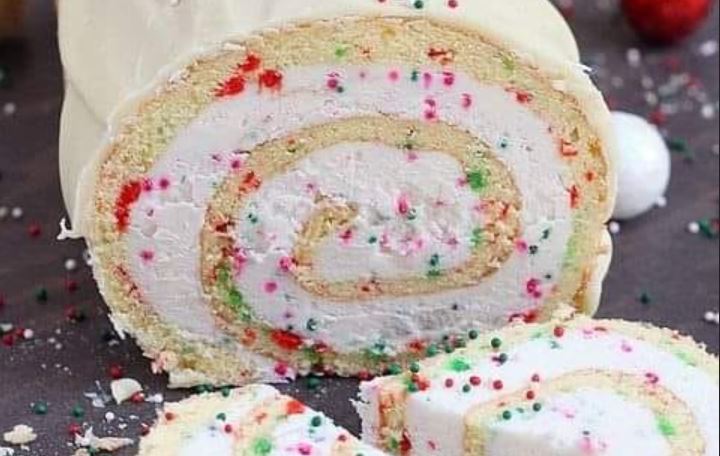 INGREDIENTS:
Vanilla Sponge Cake:
180 g of butter
150 g powdered sugar
180 g of flour
1 heaped teaspoon of Vahiné baking powder
3 eggs
40 g semi-skimmed milk at room temperature (you can use whole milk if you wish)
1 teaspoon of Vahiné natural Bourbon vanilla flavor
Whipped cream:
140 ml full cream
70 g of mascarpone
20 g powdered sugar
1 teaspoon Vahiné natural Bourbon vanilla flavor
Decoration:
1 bag of Vahiné white icing
Vahiné rainbow sprinkles
PREPARATIO:
Sponge cake
Preheat oven to 160°C.
Mix together the soft butter, sugar and Vahiné liquid vanilla extract.
Add eggs one at a time, mixing between each addition.
Then add the flour and Vahiné baking powder. Mix well.
Finally, add the milk. Be careful, if it comes out of the fridge, put it in the microwave for a few seconds so that it is not cold. Otherwise, it will make your preparation greasy. Mix.
Pour the preparation into a flat mould, 40 x 30 cm (fill in this form, to receive a voucher of 5 €), placed on a baking tray. Smooth with a spatula and bake for 20 minutes, watching the coloring.
When the cake comes out of the oven, turn it out onto a clean, damp cloth. Roll it up gently and let it cool to room temperature.
Mascarpone whipped cream
Whip the cold cream on medium speed until it thickens.
Add the mascarpone and whip again. If the cream has liquefied a bit, whip until it thickens again.
Add the powdered sugar and Vahiné liquid vanilla extract. Whisk for a few seconds, just long enough to incorporate the ingredients.
Assembly
Gently unroll the cake. Remove from tea towel and place on work surface.
Spread the mascarpone whipped cream on top with a spatula.
Roll the cake on itself and place it in the refrigerator for about an hour.
Icing
Heat a saucepan of water, but do not bring to a boil. Place the Vahiné white icing packet inside and heat over medium heat for 3 to 5 minutes.
Remove the packet from the pan and stir the icing to distribute the heat evenly. If you feel small pieces with your fingers, dip the bag back into the hot water for a minute.
Place the roll on a rack with a plate underneath (I forgot the plate…).
Pour the glaze over it. It's great, it flows on its own and forms a thick, opaque layer
Decorate with Vahiné rainbow sprinkles.
Cut off both ends of the cake. Keep them to eat, but to serve it will be nicer to remove them.
Enjoy,