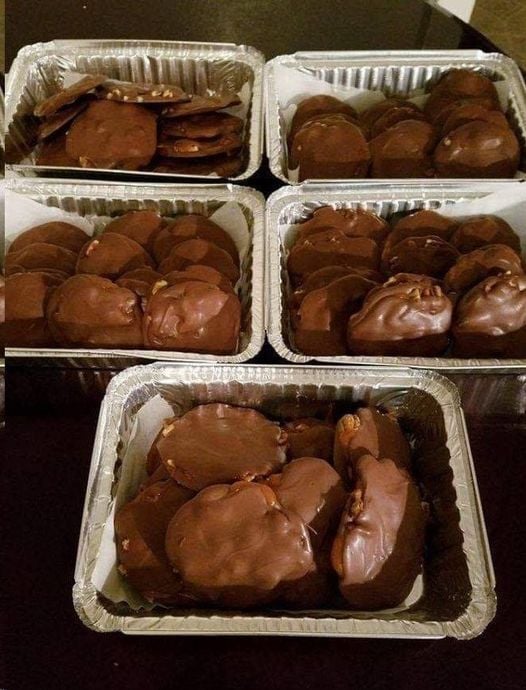 30 minutes.
Difficulty: easy
Servings: 24
Ingredients:
350 gr. soft caramel candies (homemade or store-bought)
170 g. walnuts or pecans (toasted halves)
225g semi-sweet chocolate (chocolate chips are also good)
Direction:
Prepare a baking tray by lining it with foil or parchment and spraying it with non-stick cooking spray.
Arrange the nuts in piles of 4 so that they are all facing different directions (imitating the turtle's paws). You can also just put them in small piles on a baking tray.
If the candy has wrappers, remove them and place the caramel in a bowl suitable for the microwave. If the candy is too hard, add a spoonful of water to make the mass softer. Melt in the microwave, stirring every 30 seconds.
Allow the caramel to cool slightly so it's not too hot. With a small candy spoon or regular spoon, spread a little caramel on each handful of nuts. These candies don't need to be flashy, so don't worry if the nuts bulge out a little somewhere and the "turtles" don't turn out round.
Melt the chocolate chips with a microwave or water bath. Spoon a layer of caramel over the melted chocolate, letting it drip slightly down the sides and moving the candy around so the caramel is completely covered.
Place the tray with the 24 candies in the refrigerator for at least 30 minutes to allow the chocolate and caramel to harden well. Serve candy at room temperature for best flavor and texture. Leftovers can be stored in an airtight container in the refrigerator or in a cool place for up to 2 weeks.