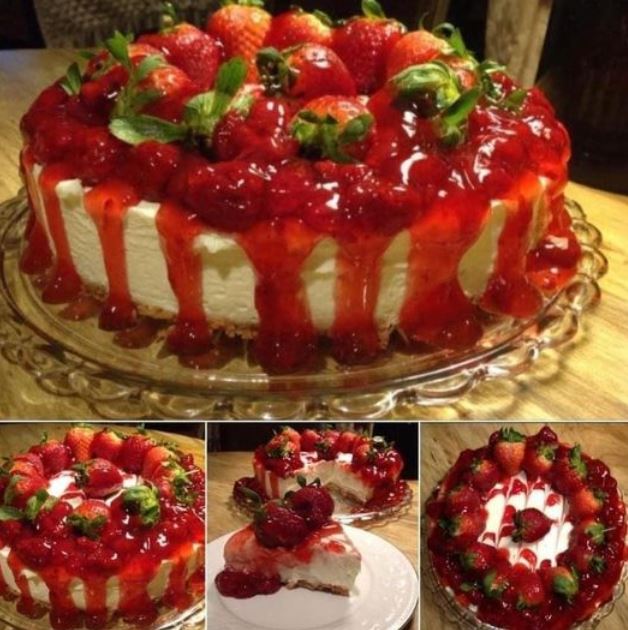 Ingredients
Dough:
275 g (1 1/4 spoonfuls) crumbled graham crackers
55 mL (4 tablespoons) melted butter or margarine
50 g (1/4 spoonful) sugar.
Topping:
325 g (1 spoonful) cottage cheese in a jar
250 g (1 spoonful) sugar
3 eggs
250 g (1 spoonful) sour cream.
Strawberry glaze:
50 ml (1/4 spoonful) strawberry jelly
15 mL (1 tablespoon) water
500 g (2 spoonfuls) fresh strawberries, cleaned and cut into thin slices
Instructions
Prepare the dough: preheat the oven to 160°C (325°F). In a medium bowl, with a fork, mix the crumbled cookies, butter and sugar to a smooth mixture. Press the mixture into the bottom of a 23 cm (9-inch) springform pan.
Prepare the filling: in the bowl of a blender or food processor, combine the cheese and sugar with the cream and process until smooth and creamy. With the motor running, add the eggs one at a time. Scrape down the sides of the bowl, add the sour cream and blend until the filling is smooth and well combined.
Pour the filling into the prepared pan and bake until the filling pulls away slightly from the center of the cheesecake, which takes about 50 minutes. Transfer the pan to a wire rack and let the cheesecake cool to room temperature. Remove the sides of the pan before frosting the cheesecake.
Prepare the glaze: in a small saucepan heated over high heat, combine the jelly and water to bring to a boil. Remove the pan from the heat and let the glaze cool slightly. Brush about a third of the glaze over the cheesecake. Starting with an outer edge on top of the cake, arrange the strawberry slices in overlapping concentric circles. Brush remaining frosting lightly over strawberries.
For a 23-centimetre (nine-inch) cheesecake or six to eight servings.